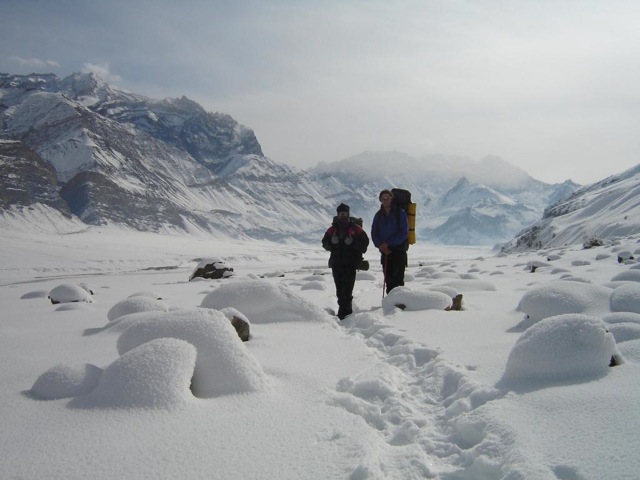 The time right after you finish college is usually one of anxiety and desperation. Finding a job is tough and you really don't know what to do. You become restless and bored, all at the same time. It was the same case with me, and I was just longing for something interesting in life. That's when I decided to experience Chadar Trek, with four of my other friends. Convincing them for this arduous trek was not so difficult since they were going through the same as I was.
We were all left dumbstruck by the beauty of the frozen river
It was the middle of January and it was freezing cold in Ladakh. We were told we would be acclimatized to the weather conditions before embarking on the trek. And that's what we did for the first three days after landing in Ladakh. We shopped around in Leh and visited some of the monasteries of the town.
On the fourth day, we were taken to Chilling, the starting point of the trek. As we stood there, watching the frozen Zanskar River in front of us, I could help but notice the expression on the faces of all four of us. It was one of utter amazement, as if we had been stupefied by the magic wand of Harry Potter.
There was the problem of shoe
Before beginning the trek, we were taken to a shop in Leh to get trekking gear on rent. Four of us had no problem finding the right size of the gear, but Nikita, our friend with small feet, had trouble finding the right size of shoes. It was only after stuffing quite a bit of cotton in the shoes that we could be ready to undertake the adventurous trek.
For all those who have small feet, I would suggest bringing your own trekking shoes along, because finding the right size in Leh is going to be difficult.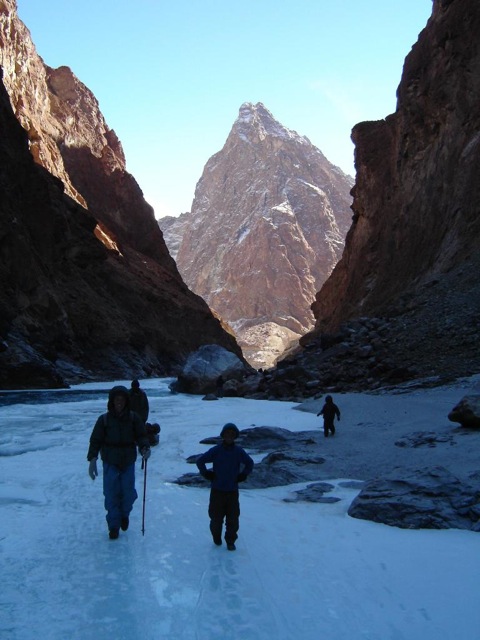 As the trek began, we were even more amazed
Our guide, Angchok, took the first step on the frozen Zanskar River. After checking the density of ice, he asked us to follow suit. I could feel myself trembling as I took my first step on the frozen river, and the situation with the other four was no different.
For at least five minutes, we just stood there in the middle of the river, with nothing but ice all around us. It was a stunning sight, one that is not going to leave me for as long as I live.
From then on, it was a pretty smooth journey
After the first few steps on the river, we were able to overcome our fears. Angchok, being the expert that he was, guided us through the river, and the rest of the trek was smooth. We stayed in caves or tents overnight, with hot Ladakhi food served by cooks who travelled with us. There were a few areas where we had to do a bit of rock climbing, since the ice was pretty thin. However, it was not very strenuous, more so because all five of us had done plenty of other treks before.
On the way, we listened to the interesting stories told by Angchok, which must have been passed onto him by his parents and grandparents. He told us stories of kings and kingdoms, and how some of the regions of Ladakh got their name.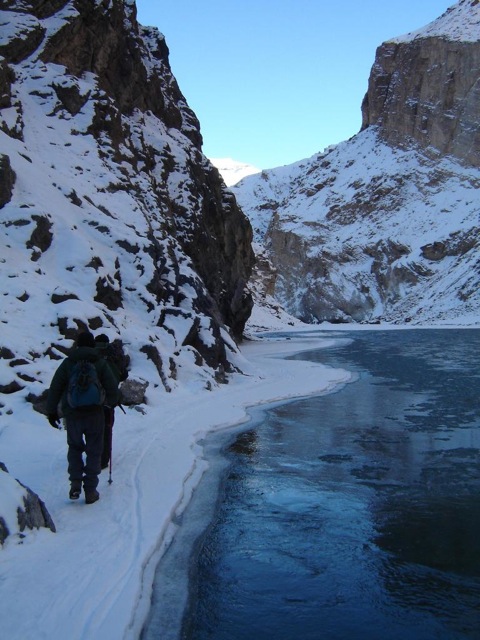 At the end, we yearned for more
The Chadar trek lasted for 15 days. It was 15 days of awe-inspiring moments, with breathtaking natural beauty to enjoy. Even after that extensive journey through the frozen Zanskar River, we yearned for more. But sadly, it was time for us to leave. However, we all made a promise to ourselves to come back next year for this amazing trek again.
And this time, we are planning to go in the month of February, because the trek is a lot more adventurous during that time of the year. The density of ice begins to reduce and you have to do a lot of rock climbing in order to pass through some treacherous regions of the river.
By Divij Pasrija
About the Author: Divij is an adventurer, a budding photographer and a writer. He has been to various trekking trails and to many offbeat destinations in India from Ladakh to Kerala. His passion is to explore all the offbeat destinations in India. Currently, he writes articles on travel for www.Thrillophilia.com.