Don't cry over spilled wine
After a wonderful weekend in Colorado Springs we had to switch hotels that last night. After quickly packing our car up and arriving at the new hotel around 10 PM we grabbed Josh's bag out of the trunk without realizing it wasn't fully zipped. All of his clothes along with a very nice (expensive) bottle of red wine went crashing to the ground. His business attire, and other clothes for the weekend were all quickly dyed with red wine. The photo shows the stain the morning after from the wine, you can only imagine what it did to his clothes!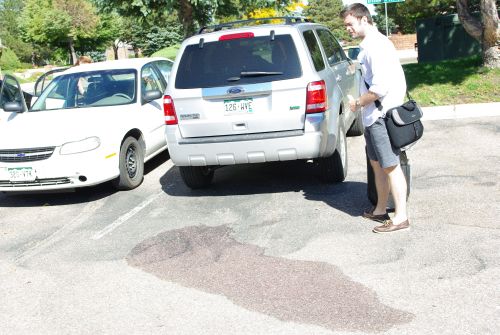 What do you do next? Begin to speak in four letter words about how you have to buy new clothes and that you wasted a delicious bottle of wine? Or do you say we will replace the clothes, there will always be more bottles of wine and not let it ruin your trip?
Remember these 4 tips to avoid stress while traveling:
1. Set your expectations correctly
If you expect everything to go 100% as planned on any trip whether it is a year-long or only a few days, you will be disappointed. You can over-plan any trip but without a doubt there will be delays at the airport, confusion with your reservations or spilled wine on a new business shirt. Realizing that something will almost always go wrong and practicing the art of looking past the uncontrollable, or better yet learning to get over it!
2. Be thankful for your experiences
When mishaps happen and you feel the frustration or anger start to build up, stop and remind yourself of all the blessings in your life. When we spilled the wine we were in the middle of a great trip to Colorado, had spent the day hiking overlooking beautiful mountain ranges and refused to let this accident ruin our trip. Yes, these accidents can cause a big inconvenience and some will be more expensive than others, but we were thankful for our trip and didn't let the need to buy a new wardrobe for Josh get us down. Think about who you are with, where you are, and the experience you are having and realize that almost always the big picture is hardly affected by what happened.
3. Accidents happen
You can't control everything, you have already learned from step one to not expect everything to be perfect. A lot of things will be out of your control and then there will be times when they are in your control but you simply make a mistake. An honest mis-step of looking at the wrong bus time and having to wait 5 hours for the next departure, or forgetting to get cash out of an ATM and spending double what you had expected, these accidents can leave you mad at yourself and mad at the world. Give yourself a break and take a deep breath. You are not perfect (and that is ok!). You have the power to forgive yourself and reject negative thoughts. There is not enough time in the day to spend an extra hour pouting over an accident.
4. Eat healthy, get sleep and exercise
When things don't go your way but your body is relaxed and taken care of, you are far less likely to freak out over any situation. If you feel angry go for a run, if your body feels run down get an extra two hours of sleep that night, and always keep putting in clean healthy foods so that your body will continue to function properly. Our bodies are very sensitive to how we treat them, be nice and they will thank you with plenty of energy and endorphins to keep your mood great all day. If you mindlessly eat, forget to exercise and stay out late night after night and then something happens along your trip you didn't expect, the built-up stress can explode and you won't handle it like you should.
What are your tips for avoiding stress when stressful situations happen?