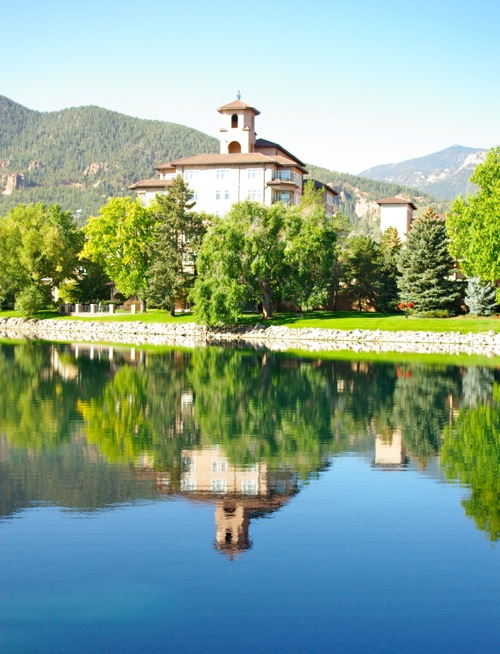 Name: The Broadmoor Resort
Where: Colorado Springs, CO
When: October 2011
Price: $240 / night
Who helped us? [Service]
From the time we arrived until checkout, everyone at the hotel went out of their way to accommodate us. We were very impressed with the friendliness of the staff and the attentiveness to detail.
A great example was when we had finished hiking we ran to our room while the maids were there cleaning it. We simply wanted to grab some clothes and get out of their way. Before we got far into the room they had us walk back out and swipe our card to ensure it was our room. Such a small act to ensure that no one is breaking into our room while the door is open. We were grateful for the double check.
The concierge directed us to all of our daily activities while helping us with our valet slips. The spa staff ensured our every comfort from heated robes, slippers in our size and a roomy locker to put our stuff in. They encouraged us to use the sauna and therapy rooms and kept our glasses full of cucumber water or hot tea. We could hardly turn a corner without a new face attentive and ready to assist!
What did it look like? [Ambiance]
Walking into the Broadmoor we were taken back by the grand decor and luxurious furniture, wall hangings and designs. The best part that can't be missed is the breathtaking mountain view from this hotel!
Our stay was obviously much different than many of the bed and breakfasts we usually stay at. The other guests staying with us had a different air about them, everyone was mostly dressed to the nines no matter where they were on the grounds. The property, indoors and out, was always spotlessly clean.
Did we sleep? [Room]
The bed was very comfortable. Plenty of pillows line the bed so make sure you figure out your optimal setup before turning off the lights. Once you are out for the night you will have sweet dreams of fresh mountain air. We had a Superior Room in the Main tower, which is the oldest part of the hotel. We heard that they were trying to preserve the tower's history, so it wasn't as updated as other parts of the hotel. There was a spectacular view of the Broadmoor pond and of the front range. The bathroom was large and included a shower with glass doors, a footed bathtub, and two sinks. There was a walk-in closet, minibar with coffee, tea, hot chocolate and apple cider included in the resort fee. It was very colorful and traditional.
Were our stomachs full? [Food]
Not only were they full, they were stuffed. The food is one of the best part of the resort, with many restaurants to chose from with every type of food available. At Charles Court, we had an unforgettable prosciutto-wrapped filet and a seared ahi dish that were delicious. The buffet breakfast at the Lake Terrace was full of options, and had plenty of fresh fruit, pastries, meats and an omelete station. We were rarely hungry for lunch after our wonderful breakfasts.
How quickly could we surf the web? [Internet]
The internet fees were included in the resort rate. Wired and wireless connections were easily accessible and fast!
Where is the Broadmoor? [Location]
The Broadmoor is about 90 minutes from Denver International Airport. The hotel is also about a 20 minute drive from many Colorado Springs attractions including Pike's Peak and the Garden of the Gods park. Seven Falls is also just a few miles from the hotel. It was easy to get around because we had a rental car, otherwise we would have had to take a taxi to get anywhere from the hotel.
Would we go back again? [Overall Thoughts]
This resort isn't our typical stay but spending a long weekend in such a beautiful resort was fabulous. We pampered ourselves for 4 days enjoying delicious food, spa services and breathtaking views. This trip was covered by one of our employer's, which is the only real reason we were able to stay out here. While we would love to stay here again, it is probably out of our normal price range on a regular basis.