We are participating in the BootsnAll 30 Days of Indie Travel project. We will be posting once each day in response to a prompt given on the BootsnAll website. Leave your comments below and also check out their website for other bloggers joining in!
Day 16: Mental baggage can weigh us down as much as physical baggage when we travel. How do you travel lightly – either emotionally or physically?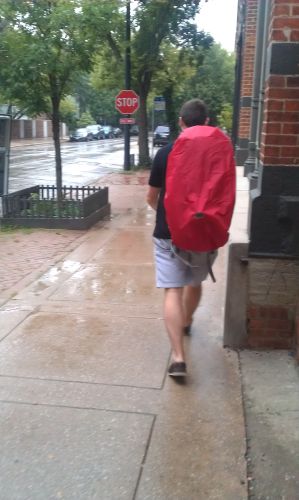 I have never worn all of the shoes/clothes/jewelery that I bring.
When you are running for a train it is hard to move fast lugging 50 lbs.
I am never afraid my luggage will get lost or damaged at the airport.
Whether it is 3 days, 2 weeks or 11 months I will generally want to wear the same thing. (ex. beach = swimsuit, snow = jacket, hiking = exercise outfit)
I don't have to pay extra at the airport. (most of the time)
I love being able to walk right off the plane and skip the baggage claim.
It's a challenge to fit everything you need for your trip into a carry-on bag.
Being able to show up at the airport and head straight for security.
We save money by not buying souvenirs, since there isn't anywhere to store them.
Taking a carry-on bag doesn't even feel like a choice anymore, it feels like a requirement. I can't imagine traveling with checked luggage for any length of trip. It's more secure, economical, efficient and fun!
Why do you travel light?