We are participating in the BootsnAll 30 Days of Indie Travel project. We will be posting once each day in response to a prompt given on the BootsnAll website. Leave your comments below and also check out their website for other bloggers joining in!
Day 20: Just as the cuisine of a place reveals clues about its culture and history, so does its signature local drink. What's the best drink you had on the road, and did the drink have any connection to the place where you drank it or the people you drank with?
It's not so much what we drank, but how we drank it…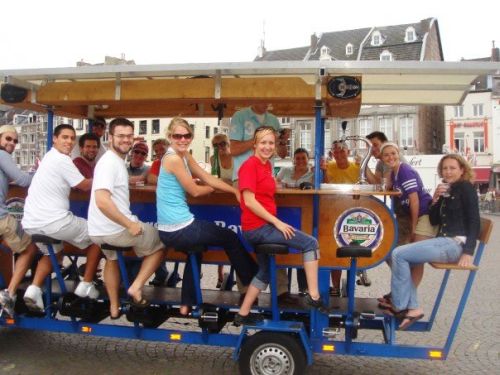 When we were back in college we were with a group in Maastricht, Netherlands and we rented a bike bar. If you haven't heard of this great mode of transportation let me explain. Ten people power the bike, five on each side with a bartender, a driver and one keg of beer with 2 hours to drive wherever your legs will take you. This was the most memorable drink of our travels and I can't even remember what we were drinking.
I remember laughing…a lot! I remember the looks on people's faces as we pedaled by. I remember the couple on their own bikes who rode up behind us and chugged a glass of beer. I remember the hills while we were riding and all having to work so hard to get over them and then coasting on the way down. On one steep hill, three of us had to get out behind the bike and help push it up while everyone else pedaled only to run and jump back on before we were left behind. I remember the music playing and singing along to some great songs with the group. I remember our driver taking some tight turns down the cobble stone streets which almost left us in a bike catastrophe.
I still cant remember what the drink was, but I'll never forget the ride! One of our friends made a video of the trip below: