We are participating in the BootsnAll 30 Days of Indie Travel project. We will be posting once each day in response to a prompt given on the BootsnAll website. Leave your comments below and also check out their website for other bloggers joining in!
Day 7: Joining in a local festival, holiday or special event is a great way to learn more about a local culture. Share the story of a celebration that meant something to you on your travels.
Throughout our travels we have attended a lot of big events and festivals in many countries. We watched the peloton on the Champs-Élysées as the Tour de France ended, Josh was in the corral of people running alongside bulls at San Fermin in Pamplona, Spain and we attended the Zurich festival celebrating the local arts. Each event was special and held a place in our travel story, but with the hordes of people and the multitude of activities, I don't feel like we got to truly learn more about the local culture.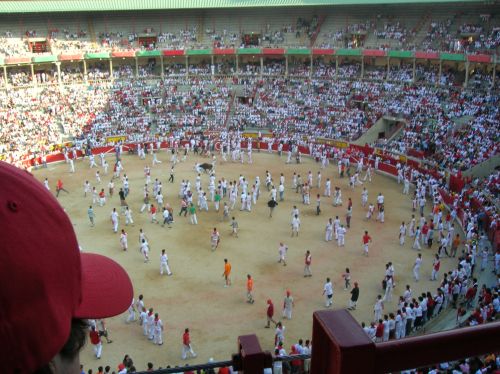 A great example of this would be the well-known running with the bulls event. After showing up in Pamplona we instantly felt out-of-place since we did not have the official red and white attire that the ENTIRE city was wearing – so we went out and purchased clothing to join in the celebration. As we walked along the streets every store was boarded up, the only buildings opened were selling trinkets and memorabilia from the event. I felt that all of the locals had packed up and left for the weekend, and left tourists in the city for a full week of partying. There was definitely a history to the event and a pride in the air, but it was overshadowed by the beer filled bellies and rowdy crowds. Don't misunderstand, I had a great time attending this festival and would recommend it to those who want to join in the celebration, but I did not feel as if I was able to leave saying I had grasped the local culture in a few days.
My memories of truly experiencing the local culture is when I am in a small coffee shop, or run into a local on the street and strike up a conversation. I believe that I am able to learn more about a location when it is just me and that city or town I am staying in. Not when the city is decorated with festival rides, or holiday craze. I love attending the different festivals that I have heard so much about, and while I am celebrating I know that this is the city putting on a show in celebration, not necessarily how it is on a day-to-day basis. The holiday is a small sneak peek into their culture but it is when you stay a week or two after the celebration when you are able to experience and understand a culture.
What do you think? Have you experience a festival in a foreign land?