We are participating in the BootsnAll 30 Days of Indie Travel project. We will be posting once each day in response to a prompt given on the BootsnAll website. Leave your comments below and also check out their website for other bloggers joining in!
Day 5: One of the greatest joys of travel can be the random acts of kindness you'll receive from total strangers. Have you ever found kindness from strangers in unexpected places?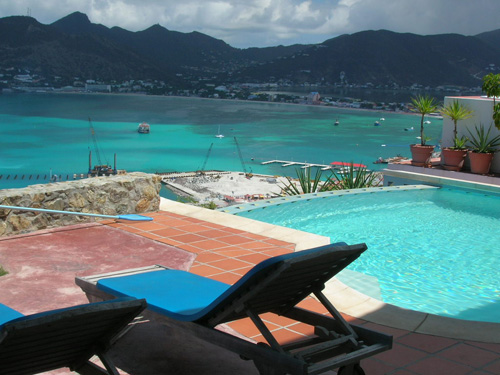 We have been lucky enough to have help from a number of random people along the way while traveling. There are those who have helped us with understanding languages or cultural differences or have helped us overcome getting around on local transportation. For all of this we are very thankful, but one of our greatest memories is from our honeymoon—when we were trying to hide out from everyone—a wonderful couple was right next door whom we ended up forming a friendship with.
For our honeymoon we stayed in a private villa on a cliff overlooking Phillipsburg, St. Maarten. We had our own infinity pool with a big patio and were looking forward to a week by ourselves with nothing planned. Sitting in the pool watching the cruise and cargo ships come in was one of our favorite activities. For this vacation we wanted to be away from the busy hotels and crowds. On one of our first days out in the pool, we met our neighbors, an older couple who mentioned how they normally stay in our unit, but couldn't since we had booked so far in advance. Oops. They laughed about it, and asked all about our wedding and future plans. They were very friendly, but we figured we would say hello and probably not hear from them again.
The next day they brought us a large bottle of Grand Marnier as a wedding gift. We were surprised at their generosity. Not only did they give us a gift, they also invited us over to dinner that evening. We dressed up and spent the evening talking with them over steak and (too much) red wine. We had a lot of fun, and were happy to be able to share stories and experiences with new friends. This was probably the last thing we were expecting, but ended up being one of the most enjoyable memories from our honeymoon.
When have you encountered kindness from strangers?