We are participating in the BootsnAll 30 Days of Indie Travel project. We will be posting once each day in response to a prompt given on the BootsnAll website. Leave your comments below and also check out their website for other bloggers joining in!
Day 9: Travel helps us better appreciate the present moment instead of always looking to the next thing. Describe one perfect day you had while traveling this year. Where were you? What were you doing? And what made it perfect?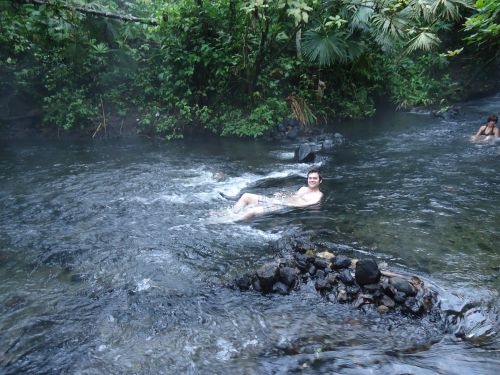 In the past year we have had a lot of really memorable experiences while traveling. If I chose a time where I remember sitting and soaking in the moment while enjoying the present time, it was in Arenal, Costa Rica. We had heard about the famous hot springs that The Bachelor went to, The Springs Resort, and the grand Tabacon but we had read about the natural hot springs that locals go to across the street… and this is where our perfect day was spent.
We climbed down a muddy hill into a rush of water that seemed to go on forever, surrounded by beautiful greenery and serenity. There were only 4 other people in these natural hot springs so we climbed up some rocks until we found our own area and there we sat. We felt the water rush over us and watched it swirl around the rocks and down to the next level. We listened to the birds and the wind through the trees. As basic as it sounds we were amazed at the temperature of the water, how one second you would be sitting in very heated water and then quickly you would get a splash of cold water to come and cool you off. Instead of a clean, chlorinated pool, the water was full of sediment and rough lava rocks. We even found tiny rocks in our bathing suits later that night. The spring was always changing, yet very comfortable and we were content. We weren't sitting there talking about what we had seen earlier that morning or where we were going later in the day, just relaxing in the warm water.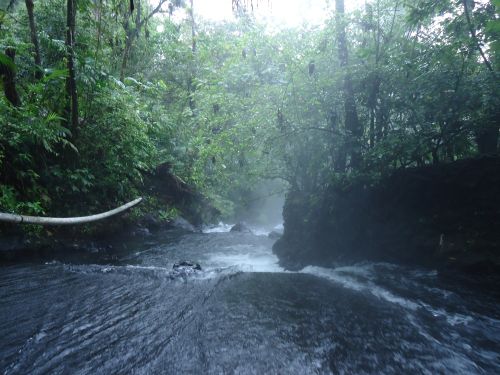 The time spent in the hot spring was almost magical (I realize that it sounds corny to say this), but sitting in that moment with the mist coming off the water, the seclusion of the area and the feeling that we were experiencing something that many tourists would never see. My perfect day this year didn't consist of crossing anything off a bucket list, it simply took me to a hidden hot spring and gave me time to sit and enjoy the wonderful world around me.