We are participating in the BootsnAll 30 Days of Indie Travel project. We will be posting once each day in response to a prompt given on the BootsnAll website. Leave your comments below and also check out their website for other bloggers joining in!
Day 22: The word travel comes from a French word meaning "work" and sometimes, getting there is work. Between crowded buses, long airline delays, overnight trains and crazy rickshaw rides, transportation can be stressful, but it can also be a rewarding part of the trip. Tell us about a time when the journey became more important than the destination.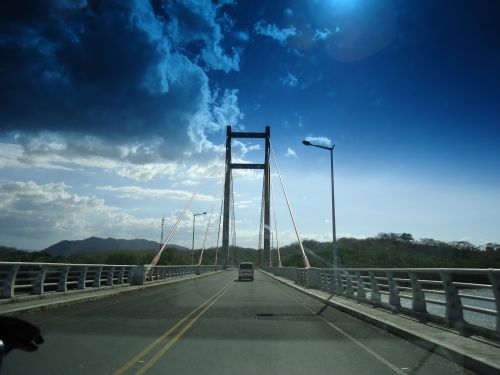 One of our favorite ways to travel in any country is to rent our own car and pick up a map. Not because it makes our travels easier, but it definitely makes it more exciting. Earlier this year we set out on a trip through Costa Rica and drove from Tamarindo to Monteverde to Arenal. Every unpaved road, road sign, and roadside fruit stand made the trip an adventure.
We started out with our map, and for anyone who hasn't been able to drive much in other countries, not all maps are clearly marked with road names, mileage and specifics like American maps. We were handed maps with a few major roads but not really where to turn and the guy who gave us the map tried to tell us about all the major highways that were conveniently left off the map. Most of the roads were unpaved and rather bumpy, where our 60 kph speed was quickly slowed down to 30 kph.
But we kept driving…
With all of the bumps something in the car must have gotten knocked loose because a light on the dashboard lit up. Josh is continuing to drive while I frantically try to match the picture to something similar in the manual, in order to determine if the car is going to randomly blow up on us or not. We found the picture symbol that matched but my spanish wasn't nearly good enough to understand the specifics of what was going on in our car. There was no option to stop and get the car looked at considering we were driving along with nature and wild horses with no town in sight. Despite our better judgement we continued up and down the mountains of Monteverde leaving Josh with a headache from the non-stop shakiness of the car.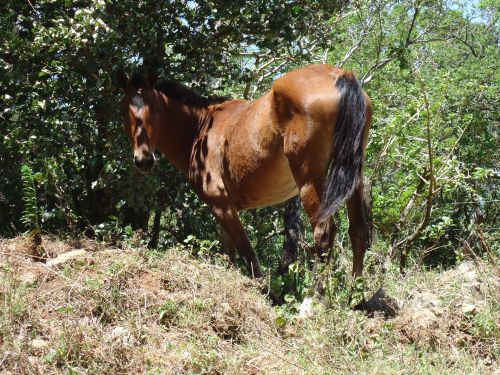 Yet we continued to drive…
No matter how fast we were going, we always seemed to be going too slow. All the other cars on the road seemed to pass us like we were standing still. That, combined with the kph speed limit signs kept us quite confused on how fast we should be going. While on a two way road we came across another vehicle, a police car, who motioned for us to pull over. The next 20 minutes sounded something like this, I will paraphrase the policeman part since I truly didnt understand 3/4 of what he was saying…
Policeman: You were speeding down the street and you can't do that in Costa Rica
Josh: Lo Siento.
Policeman: There will be a 200,000 colones fine ($400). You will have to pay in San Jose
Josh: No entiendo. Primero vez en Costa Rica.
Policeman: Mas despacio (more slowly) You need to slow down when driving in Costa Rica. The fine will be 35,000 colones ($200).
Josh: no comprehende. We are driving from Tamarindo to Monteverde.
Policeman: Does she speak better spanish than you?
Josh: (laughs inside) No, she doesn't at all
Policeman: Is this your first time in Costa Rica?
Josh: Si, Primero Vez.
Policeman: (Obviously frustrated) Welcome to our country. You need to slow down when you drive here (repeated Mas Dispacio A LOT!) There will be no fine, but slow down when you drive!
Josh: Muchas Gracias!
My heart was pounding but the policia let us off with a warning (talked down somehow from $400). We are grateful he was willing to be patient with us and save us from an outrageous fine! Needless to say we drove mas despacio for the remainder of the trip!
These were only a few of the incidents that made our self-driving experience through Costa Rica more of an adventure and learning experience than if we had been driven around by someone else. It added plenty of stress but let us see the land and interact with locals along the way.