One of the main reactions people have when hearing about our trip is, "I would love to do something like that". For a long time we were in this category…we dreamed about traveling and all of the places we wanted to go. When we would read about people leaving on trips of 6 months to a year, we would put them in a different category and remark on how awesome their lives must be to be able to do it. How could we leave our friends and family for that long, or maintain our careers after being gone for so long? How could we possibly afford an entire year of travel?! We had the same reactions and figured a round-the-world trip was nothing more than a nice dream.
So what finally pushed us over the edge? What made us believe that we could make this trip happen and actually go through with the plans? (we leave in 2 months!). Below are some links to bloggers that have inspired and convinced us that if traveling is your passion you can make it happen! We hope you will be inspired as we were to fulfill your own dreams.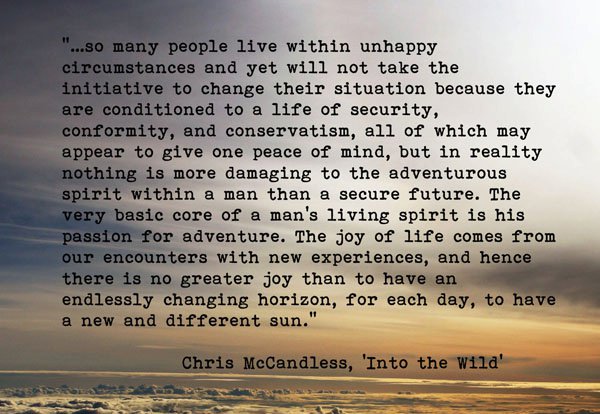 The Meet Plan Go Chicago event was an incredible meeting for us to attend and connect with other people who had actually done what we have been planning for so long. We were able to get a lot of our questions answered and our passion was ignited with the stories and places that the group had to offer. They each had their own reason for leaving the traditional 9 to 5 job to write a better story for their life.
Other bloggers were a huge inspiration
A must read book if you are considering your own RTW trip is Vagabonding by Rolf Potts
Chris Guillebeau's book, The Art of Non-Conformity and this specific post on why you should quit and travel!
BootsnAll has a great forum to read through on a variety of tips, budgets and personal stories 
The US lifestyle doesn't encourage career breaks, but once you begin to travel you realize how many people actually do take them. Begin now by reading the 100s of blogs out there.
Other bloggers RTW budgets
Trusting the business side of things
Why travel supports your resume, and other personal stories about taking a career break.
Nomadic Matt helps out with relating the trip to your career
Unconventional Guides, Empire Building Kit (affiliate links)
Travel Hacking
How to travel the world for $418
Finally, how can you not be motivated by videos like these:
Move
Learn
Eat
Where the Hell is Matt?
What pushed you over the edge to pursue a life of travel or, what's holding you back?