The best transportation is always your own two feet!
One of the ways I suggest getting your workout in while traveling is planning to see the city you're visiting by foot and run every morning to learn the lay of the land and experience the city as you sweat. Also, if you have any errands to do and you have the time I suggest walking or running – no matter the distance! Schedule the time and enjoy the fresh air and exercise you get while you cross things off your to-do list such as a grocery or pharmacy trip or a meal.
Fort Lauderdale isn't set up as a walking city like Chicago, so it makes getting around a bit more difficult. All you need to do is budget more time to do simple things such as grocery shop or eat breakfast. We were lucky to have a map and our phones to direct ourselves and ended up going 8 miles round-trip.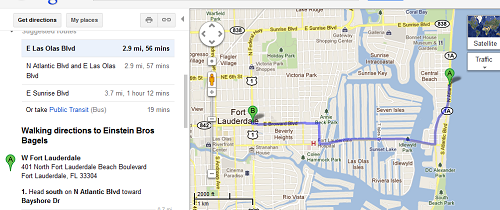 Today's Workout
Ran 3 miles to Einstein Bagels for breakfast.
Walked 1 mile to the Publix to pick up food for lunch and snacks for our hotel room
Walked 4 miles back carrying rather heavy grocery bags (thanks to the yogurt, milk and bananas)
Once we got back home we used our thera-bands to complete different arm circuits for strength, along with planks and pushups.
A great day full of exercise!