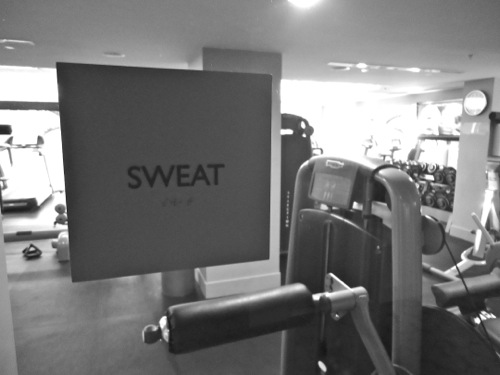 Traveling doesn't mean that you have to give up on your workout routine. It just means that you might have to be a little creative. Follow along with us as we work out in all types of "gyms" and get creative with what we have around us to keep our muscles pumping!
Where: We were lucky to have a great gym at the W Fort Lauderdale to exercise in. They have various cardio and strength machines, dumbbells and a couple of stability balls.
Workout: I planned a full-body workout since I wasn't sure what our workouts would look like the rest of the weekend. Some exercises were altered to cater to Josh's currently recovering shoulder.
Warmup
Abdominal work first to turn on the core muscles: planks, suitcase crunches, SB crunches, bicycles, and Russian twists.
1st Circuit
Jump rope 30 seconds
Dumbbell burpee to bicep curl
Squat to overhead press – Caroline
Goblet squats – Josh
1 leg dumbbell squats
2nd Circuit
Dumbbell bench press
Dumbbell fly on stability ball
Bent-over row
Each exercise in the circuit was completed three times through with 12 – 15 reps.
The entire workout took around 45 minutes and we were sweating when we were done!