We are participating in the BootsnAll 30 Days of Indie Travel project. We will be posting once each day in response to a prompt given on the BootsnAll website. Leave your comments below and also check out their website for other bloggers joining in!
Day 30: Where are you going in 2012? Why is that place great for indie travelers?
In 2012, this is where we are going: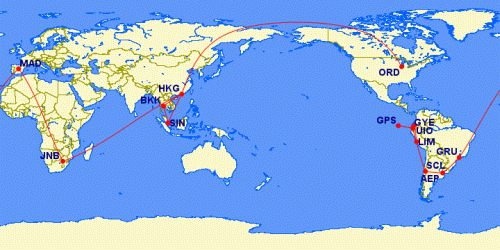 We are leaving for Hong Kong at the end of January and making our way through the rest of Southeast Asia until July. Josh's close friend lives in Singapore and we are excited to stay with him for a few weeks and then visit other destinations throughout Bali, Vietnam, Cambodia and Thailand. We then head down to South Africa for a month of wildlife, adventure and volunteering. After a quick stop in Spain to visit with Caroline's parents, we will make our way through most of South America, including the Galapagos Islands and Patagonia until we finally head home to the US (or will we?). You can review our full round the world itinerary if you would like more detail. The great part of this itinerary is that it could change at any moment pending where the people we meet take us and where the world guides us!
A round the world trip seems almost a rite of passage among indie travelers. For us, it's an overview of how different the world is outside of our home, and although we will see many of the places we have dreamed about, I am sure we will be hungry to see even more.
Where are you going in 2012?