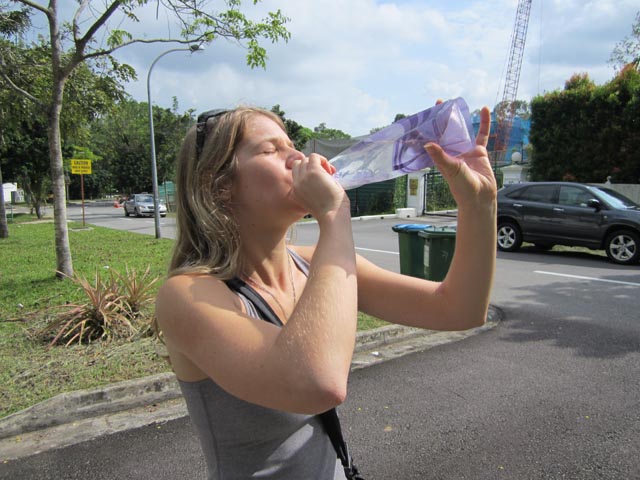 Much of the time traveling is spent purchasing water bottles and avoiding drinking the water when you are unsure of its cleanliness. Recently in Singapore I had a rather funny (embarassing) run in with a guard at the U.S. Embassy.
We made an appointment to add more pages to Josh's passport and arrived early. As we were going through the first security check they ran our bags, camera, wallets and water bottle through the scanner.
The security guard then picked up my water bottle, started to open it and offered for me to drink it. It wasn't so much a friendly offer, but it wasn't a demand either. I had no plans on bringing my water bottle with me and had puposefully taken a huge swig of water prior to entering the embassy to cover my thirst during our appointment. So, I wasn't thirsty. I turned down the offer from the guard with a smile. He then offered again, and again I insisted that I wasn't thirsty and I had just taken a sip a minute ago. They all looked at me quizzically, but I guess in the end I had convinced them all that I truly didn't need the water.
Afterwards, Josh informed me that they were going to let me take the water bottle in but wanted me to drink the water to prove that it wasn't anything flammable/explosive…OOPS!
Dear U.S. Embassy,

Had I known, I would have gladly drank the water.

Love,

Caroline