Mmm, the delicious aroma of coffee, cocoa, nutmeg and…civet cat?
These are just a few of the many things you will encounter at Bali Pulina. Located about 5 minutes north (it's on the left) of the famed Tegallalang rice terraces on Jalan Raya Tegallalang, Bali Pulina describes itself as "agro tourism" and allows the visitor to learn about and take part in the coffee, chocolate and spice preparation process.
Caroline and I are huge coffee drinkers (well, I suppose we are normal-sized, we just like coffee) and were excited at the chance to try Kopi Luwak, the world's most expensive and low-production variety of coffee. Only 1,000 lbs. of Kopi Luwak make it out into the market each year which results in prices has high as $160 per pound.
Upon arriving, you are greeted by a guide who takes you through the plantation until the end. The first stop is the civet cats.
These cats eat the coffee berries for the flesh, but leave the beans inside undigested. These are passed and then collected, thoroughly washed, sun-dried, roasted and ground into coffee.
The cat's digestive process creates a more aromatic and less bitter bean. At Bali Pulina, you can watch this entire process and even help out yourself.
We tried raw cocoa bean, examined fresh spices, and explored the pineapple, papaya and coconut trees.
And then it was time for the grand finale, the taste test.
A delicious array of hot beverages (may I remind you, we are outside in a tropical climate) along with fried sweet potato to clear your palate, at no charge. The drinks, from right to left are:
Lemon tea
Ginger tea
Ginger coffee
Ginseng coffee
Chocolate coffee
Pure chocolate
Vanilla coffee
Bali coffee
Caroline loved the lemon and ginger teas, while I enjoyed the ginger coffee and chocolate coffee.
For those wanting to sample the Kopi Luwak, you may, for 50,000 IDR per cup ($5.50 USD). It only requires one tea spoon of the finely ground beans and so for a one-time taste test, this was reasonable and we decided to get one cup. Bear in mind that Bali coffee at a local warung can be as low as 8,000 IDR.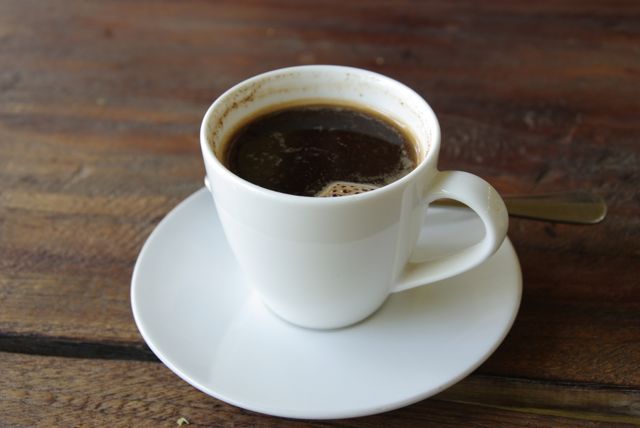 Kopi Luwak is not going to change your life, but it is a delicious and aromatic cup of coffee. It smells exactly the opposite of how you would imagine coffee made from cat poop to smell. 🙂 Our guide brought us extra Bali coffee to compare side by side and it wasn't even close, in terms of aroma or taste. It's smooth, dark and slightly sweet. If you aren't a coffee fan, you may not even notice the difference.
One thing we learned was how to correctly prepare Bali coffee, including Kopi Luwak. We had assumed the coffee at our guesthouse was Nescafe, like most other places we have stayed, and so we had been stirring furiously and hating our morning coffee for not dissolving. Bali coffee is a very fine grind and is prepared without a filter, so the key is to mix one teaspoon with hot water, let it settle for about a minute and then enjoy. Just don't try to finish the whole cup…
The tour ends back at the shop (like all popular tours) where you can buy any of the coffee, tea, chocolate or spices you have just tasted. As the rest of the tour is free, we decided to buy some lemon tea for 110,000 IDR to support the plantation. I loved the Kopi Luwak, but we are budget travelers after all.
If you are at all into coffee or tea, I would highly recommend Bali Pulina if you are staying in Ubud, or day-tripping through central Bali.