Name: Dana Guesthouse
Where: Kerobokan, Bali, Indonesia
When: February 2012
Price: $14 / night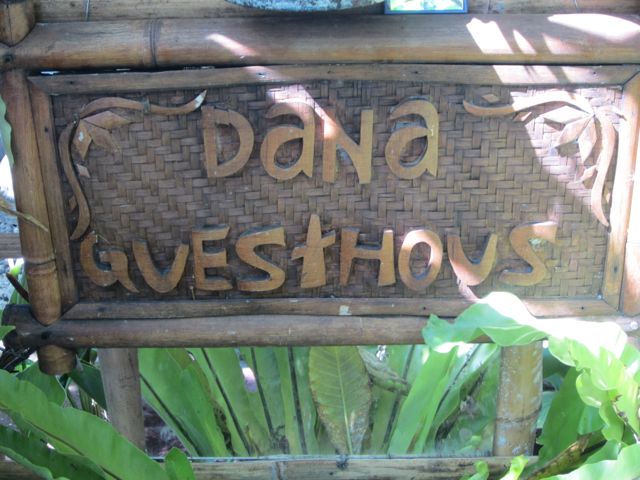 Who helped us? [Service]
There were 2 young men who were almost always there helping to keep the guesthouse looking good and clean. They didn't speak much English, but definitely enough to get by and were always very helpful.
With a minimum of 2 nights stay at Dana they offer complimentary pick up from the airport when you arrive. It was a great benefit having someone waiting for you when you get off the plane to take you right to the hostel. Our arrival was hassle-free and we quickly left the airport and didn't have to worry about haggling with a taxi driver.

What did it look like? [Ambiance]
Dana Guesthouse is comprised of 5 bungalows around a small courtyard. Each bungalow has its own stone table and stools to sit on outside and enjoy breakfast, work on your computer or just to be outside. The courtyard was well kept and comfortable. The entrance was lined with 6 – 7 motorbikes, one for each bungalow to use. There was complimentary water always available at the small kitchen in the courtyard, which we filled our water bottles with.
The rooms were basic, they had high ceilings, a queen size bed and a dresser that locked. The roof was stucco and was open air between the wall and ceiling (we spent the nights sleeping with geckos and whatever else chose to join us) The bugs weren't a problem at all in the rooms, we were very comfortable in the fan-cooled room considering the crazy hot heat in Bali! The bathroom was connected to our room and had a shower head and a toilet, no sink. It wasn't the cleanest bathroom we have stayed in, but it served its purpose.
Did we sleep? [Room]
One issue at this hostel is there is a rooster across the street that is a bit lacking in his time telling abilities. He doesn't want you to miss your wake up call so he will cock-a-doodle-doo at 2, 4, 6 and 8 AM and so on, and he's kind of half-hearted about it too. Your ability to sleep through outside noise or fall back asleep will play a role into your experience at Dana Guesthouse.
This was our first hostel in Bali and we were still adjusting to the heat, so the nights were spent sweaty but still we woke up rested. The bed was comfortable, we used our own sleep sheet at this hostel because it was more comfortable for us (It's comforting knowing you are sleeping in your own bedsheets).
Were our stomachs full? [Food]
Every morning you were served an egg sandwich complete with white bread and eggs mixed with what was available that day, sometimes onions or tomatoes. Along with the egg sandwich was fresh fruit and coffee or tea. It wasn't anything fancy but for the price of the hostel we were surprised we even got that. The coffee, tea and water were available 24/7 by request.
Since Dana Guesthouse isn't in a touristy part of Bali it is much harder to walk to surrounding areas. To find food or a market we almost always had to get on our motorbike, but the great thing about the guesthouse was that the motorbike was free! The food was a bit cheaper and the warungs served more local food than in other more tourist areas. We had delicous meals for less than $2 here, but you had to seek out which warung you wanted to eat at and you had to prepare to point and guess while ordering.
How quickly could we surf the web? [Internet]
The wireless here is free, which is nice – except it didn't work very well. Actually most the times it didn't work and when it did it was slow. There was one Vodafone mobile 3G dongle connected to a router so all 5 bungalows were sharing the one mobile internet line. I don't think this is a deal breaker for this guesthouse since there are a lot of cheap internet cafes you can go to in the area. Josh and I use the Internet a lot so this was a bit of a sore subject while we were staying there.
Where is Dana Guesthouse? [Location]
Dana Guesthouse is located in Keroboken, Bali. It is not in walking distance to much of anything touristy and is in a very residential area. One great perk is they let you use a motorbike throughout your stay, so if you are good with directions then stationing yourself here to help save some money and motorbiking around isn't such a bad idea. Our experience on our first day wasn't as smooth as I imagined, but with practice our confidence grew in driving the motorbike.
Would we go back again? [Overall Thoughts]
The amenities included when you stay at this guesthouse are pretty impressive. If you want peace and quiet from other tourists and you don't mind a fan-cooled room and living simply than this is a great place to stay. For $7/person you get to use their motorbike, breakfast included, free pick-up from the airport if your stay is over 2 nights, free wi-fi (when it works) and complimentary coffee and water. Now that we are more comfortable with directions around the island we would return to Dana Guesthouse, especially if we were trying to stick to a strict budget.