With over 2500 rooms, Marina Bay Sands is the largest resort in Singapore, and the only that provides guests the opportunity to swim up to the edge of a 57 story building. Without fear of falling, treated to all the luxuries of a 5 star resort with the Singapore skyline in the background, you can enjoy the Marina Bay Sands Infinity Pool.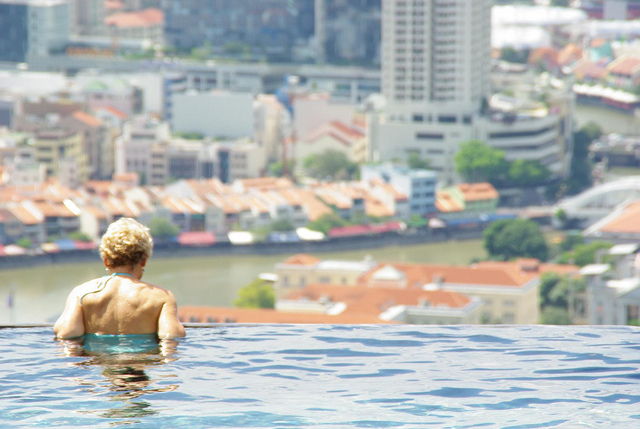 Opened in 2010, this integrated resort boasts of its shopping, dining and skypark for visitors to enjoy. Luxury rooms range from S$400 – S$10,000 per night depending on your style of travel. Whether you are staying at the resort to eat at one of many acclaimed restaurants, attending a meeting in the convention center space or swimming in the world's largest outdoor pool at that height, you will not be disappointed.
Thanks to the Sands' media team, we were given the opportunity to tour the fabulous infinity pool that I had heard so much about and is only open to the resort's guests. Walking into the pool area you see people lounging as if they are floating on chairs, immersed under water. Lifeguards span the area as people swim up to the ledge and casually glance down. The atmosphere is relaxed, yet sophisticated. The city spans out in every direction, skyline on one side, the port and ocean on the other, leaving you in awe. Families swim along one side, while the pool is partitioned and the adults only section is for those who want a bit more peace and quiet. On a sunny day you can see for miles, the water is sparkling clear and the palm trees stand tall.
S$20 allows you to ascend to the skydeck where you can see breathtaking views of the skyline, or take an hour or two to have a drink at the famed Ku Dé Ta restaurant. Personally, I think the view is great from both the skydeck and the infinity pool, but the experience of swimming to the edge and looking straight down is unforgettable. Laying in a pool where the edge falls off and all you can see is endless buildings is worth being a guest at the hotel.
No matter what, the Marina Bay Sands Resort is a day trip in itself. Shop the morning away, grab a bite to eat at a quick take away meal or taste the cuisine of a renowned chef. View the skyline from the 57th story, attend a visiting broadway show, spend a couple of hours gambling at their casino…and dance the night away in one of the clubs. PHEW.. I'm exhausted just talking about it and I didn't even do all those things!
I will be quiet now and let the photos speak for themselves…