It seemed pretty innocent. A Thai chain restaurant in one of Singapore's many ginormous super-malls. A quick stop for Thai food on our way to something else. No big deal.
At home, I would order thai food "Thai spicy" or whatever the spiciest level was, to try and test my tongue. It was never very spicy. I have had some dishes in the past that I remember as truly spicy, but generally, they tasted good and didn't really blow me away. I was trying to gear up for the trip, knowing that I would have spicy food, but wanting to set a baseline, for how spicy my food could be.
If what I had at home was the baseline, then I've already hit the ceiling.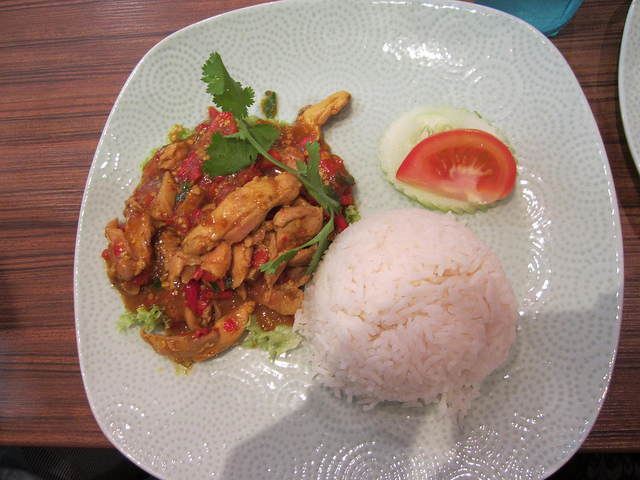 Enter the Yellow Ginger Chicken. It was listed as the spiciest meal on the menu. Since I wanted to test my taste buds, I figured it's now or never. The waitress looked at me and said, "Are you sure? This is very spicy." …I was sure.
The food arrived and I dug right in. My first mistake. It seemed fine at first.
Then the chilis kicked in.
My mouth was on fire. My eyes watered. I sweated profusely. I stopped talking.
It was spicy.
I tried to mix it around with my white rice. Even saved the tomato for as long as I could, but once I ate a few of those chilis, nothing would take away the heat. Plain white rice tasted like fire. Drinking water was like pouring on gasoline.
In the end, I powered through and finished it all and am better off for it. I now know how spicy food can be and how far I have to go to reach new levels of spiciness. I would have suffered the rest of the evening if it wasn't for the Thai iced tea that Care graciously ordered for us. The deliciously sweet milk gave relief to my burning tongue. The tea is a great safety net when trying your fork at a spicy dish. I probably won't order this for awhile, but I'll be eating plenty of spicy food over the next few months!
What's the spiciest thing you've ever eaten?