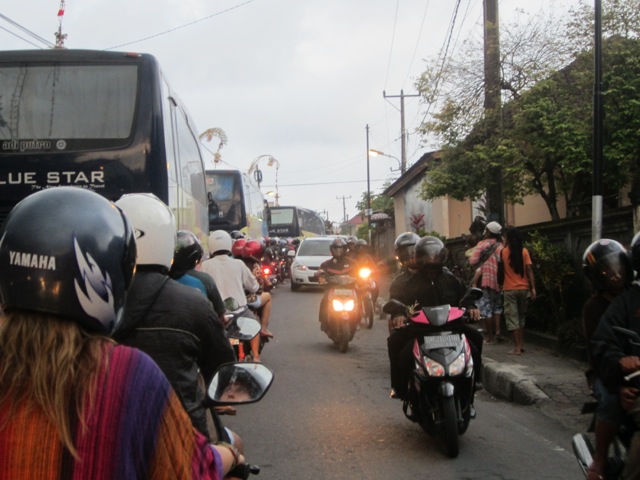 As you read in our Lost in Bali post, we had quite an experience on our motorbike the first day in Bali. We did a whole bunch of things wrong, so learn from our mistakes!
Don't bring your DSLR camera
Avoid bringing anything that is unnecessary or heavy, in our case it was our DSLR. You only have a little bit of space to store things under the seat, and otherwise you have to wear everything on your back. We didn't pull out our DSLR once while on this specific trip and we were covered in sand and dirt and sweat all day. Make sure you know what you are bringing and if you have to you can carry it all on your back while you drive.
Don't try to fit two helmets in the bike seat
We nearly broke the helmets and the seat trying to fit them in there. I managed to get it closed, but then couldn't open it again. I stressed out about it until we got back to bike and I was able to pop it open after sitting on it. If I had just looked around and seen that everyone else closed the straps in the seat and left the helmets hanging there, I could have saved us some trouble. There are so many scooters, I doubt anyone is interested in stealing a helmet.
Avoid following all the other daring riders
The big advantage of a motorbike is that you can go between cars and lanes of traffic when it's stopped. You'll notice once one person goes, many will follow. You can usually follow without any issue, but be sure to check it out for yourself. Locals have been doing this much longer than you have and have more confidence in their ability to fit between that tree and the truck then you do. You have to use your own judgment as to who you should trust to follow.
Don't depend on street names and Google Maps
We tried to get google maps directions to where we were headed. It listed street names and turns. The guy at our guesthouse told us to head towards the airport and then follow signs. We never saw any of the street names, or the signs after the airport. We ended up in line to enter the airport, and after getting out of that, almost entered a military installation by accident. Everyone we asked for directions told us to go straight, and then a kilometer or so later we'd be faced with a T-intersection where we have to turn left or right and no signs. Everyone was quite friendly, but maybe not that helpful and looking up the google directions definitely failed us!
Our friends had a plan that seemed to work, the drove until they didn't know which direction to go and they simply sat at the intersection until the red light and then asked the other motorbikers around them which way to go. Maybe not the safest, but it worked!
Don't Forget sunscreen on your legs and back
The picture says it all…
We were laughing when we weren't terrified. When traffic would slow, the most daring motorbike riders would get up on the sidewalk (I wouldn't call it a sidewalk, open sewers and all) and race ahead until they couldn't get through. I was imagining that any second I'd see a scooter race up the side of a building to avoid waiting in traffic. It was crazy, but a fun and enlightening experience.
Finally, whatever you do… Don't learn to drive a motorbike in Bali!