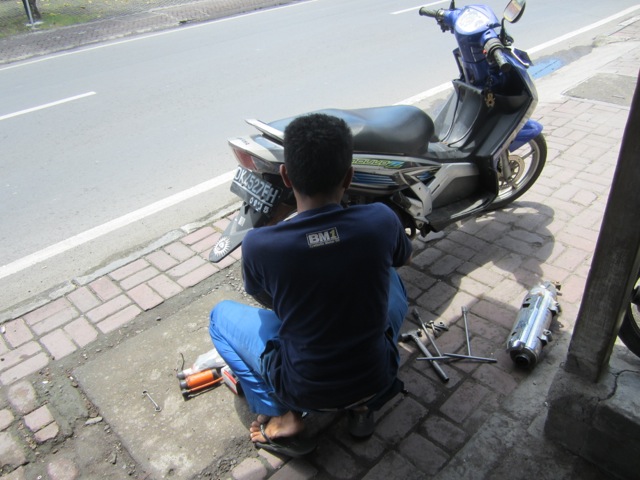 This is a story about not only a flat tire, but the kindness of strangers. You are hopefully wondering by now how can my lunch look like a flat tire…you are looking for a photo of a big round ugly thing on my plate. Truth be told, I didn't eat anything rubbery looking.
While out on our motorbike today, the back tire suddenly went flat.
Conversation
Him: #$$#@$@!
Her: I have no idea what to do, you take it to the nearest gas station and I'll start walking straight towards home. Find some way to get it fixed and pick me up.
Him: No way am I leaving you to walk alone
Her: We have to do something, maybe if we just stand here staring at our tire and looking mad/frustrated/confused some nice local will come by and help

Thanks to the power of non-verbal communication, a travel angel from across the street came out, not speaking any English, and pointed us around the corner. Who would have guessed we would have broken down literally around the corner from a bike tire repair shop. Someone is looking out for us. After knocking on the door we find out that he specializes in bicycles, not motorbikes but he tells us to wait and he will help us in ten minutes.
While we wait a dad and his son pull up to get the son's bike fixed. He speaks some English, decides to help us and rides off to search for a mechanic. The repair man rides up with all of his tools, quickly determines the problem, gives us a new tire, pumps it up and sends us on our way, all for 50,000 Rp or $5! Minutes ago I thought I was walking home and we would be paying buckets of money because of this misfortune, now I'm standing here having no idea how it all happened and riding home only $5 lighter and truly being inspired by the kindness of strangers.
Our adrenaline was still high from the bike incident as we rode our bike back to the guesthouse to check out and get a taxi to Seminyak. With the money we had already spent on the tire, and the loss of appetite from excitement, our lunch money for the day was spent on a flat tire. These are things you can't budget for, but luckily it was a quick and easy fix, thanks to some really great travel angels along the way!
How have strangers surprised you throughout your travels? We want to hear your stories!