When you arrive in Gili Air and take a walk around the island, it will take you no more than an hour unless you are like me and stop every few feet in awe of the blue water and the peacefulness of the waves. You notice plenty of restaurants on the beach with bungalows you can sit under and look out on the ocean as you eat. We tried out a couple of these restaurants, Zip Bar and Biba Beach, both which we loved. However, nothing satisfied us more than a small warung right around the corner.
Our go-to place to eat on Gili Air was not found along the stretch of beach where most of the tourist foot traffic is. There is no ocean view or pillow seats awaiting you, only a smiling face and a few plastic chairs. Warung Muslim was consistently delicious food, a great deal at only 10,000 IDR ($1.10 USD), and a quick walk from our room at Oceans 5.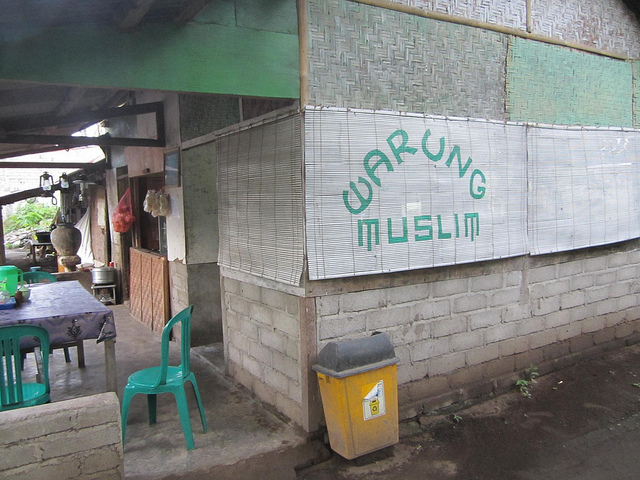 I challenge you to go here and not order in English. Use the translation on the door and do your best to order in Bahasa Indonesia, trust me she will appreciate the effort and who knows you might learn something! 🙂
The dish of the day is Nasi Campur, which basically translates to "mixed rice." You take rice and add an assortment of ingredients (meat, veggies, chilis) that have been sitting out all day. It's a little unnerving seeing the meat sitting in the case, but once you eat it your fears will subside.
My order:
2 bungkus (2 for takeaway)
Nasi (rice)
Ayam pedas and sayur (spicy chicken and vegetables)
Tempeh manis (soy dish popular in Indonesia mixed with sweet soy sauce and sambal)
Coconut powder and peanuts
Sambal (extra chili sauce)
Terima kasih! (Thank you!)
Also, she will offer you a plastic bag. I have always turned it down to not create extra trash (burning trash is about the only option here besides throwing it in the ocean) and I just carry my food home.
You will walk away with a paper cone looking like this:
Open it up and you will get this: DELICIOUS!!
How to get there:
Take the path heading inland past Oceans 5 on the south end of the island. Take the first road on your right and Warung Muslim will be the first warung on your left. So easy!
Warung Muslim is not a place you will see a lot of tourists hanging around, a lot of the locals will go here and grab food to take with them. It is simple and satisfying. Josh and I were always full after our meal here and loved the interaction with the sweet lady who runs the warung. She will remember you if you keep going back which makes ordering easier, plus she got pretty comfortable loading up our meals with chilis. Pedas! (Spicy!)