Free Internet. Complimentary breakfast. Air conditioning. Lockers. Safe. Complimentary water refill. Ensuite bathroom. Transportation discount. Stay 2 nights – get 1 free.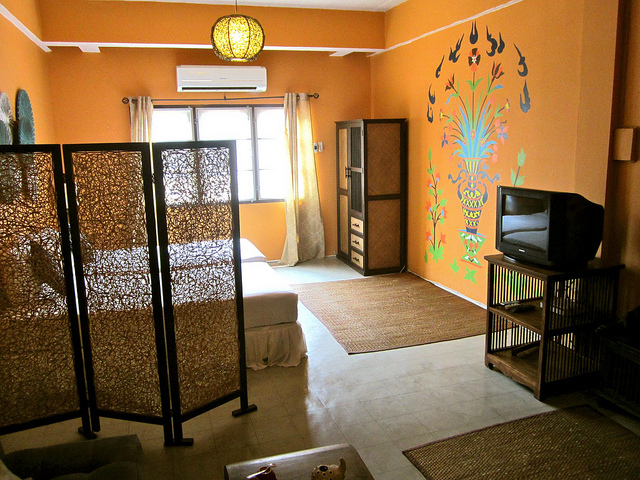 Josh and I spend a lot of time searching for the perfect guesthouse/hostel/hotel that will balance our budget with our desired amenities. We realize that you can't have everything, but our question is what amenities do you make your priority? When you start your search, what are you willing to be flexible on and what do you require in your hotel room. Here are our top 5. Usually, we try to get at least 3 off this list to keep us happy!
1. Air-Conditioning
We have slept in plenty of fan-cooled rooms and been fine, but depending on the fan and the room's circulation it can make or break a night of sleep. Especially during the hot season in Southeast Asia, coming back to an air-conditioned room is heaven!
2. Wi-Fi
Wi-fi is high priority, and the faster the better! Obviously we are Internet junkies and instantly feel disconnected without being able to sign online. If there isn't internet at the place we are staying we look for a restaurant or cafe nearby that offers free wi-fi and they usually get our business.
3. Breakfast Included
Obviously not a requirement, but a good breakfast is a great way to start the day. We have stayed in a couple of guesthouses that have cooked the most delicious breakfasts and I remember many nights falling asleep dreaming of what breakfast would be waiting for me when I wake up.
4. Cleanliness
This isn't an amenity that a hotel will advertise, it is assumed that rooms should be cleaned…or is it? I am always surprised at the lack of cleanliness of some places we look at. Some people can sacrifice cleanliness to save some money or stay in a better location, but I prefer to be able to walk around my room without shoes on and not have to use my sleep sheet. This amenity affects bathrooms especially, with the many "open air" bathrooms in Southeast Asia there is a lot that can end up in your bathroom and knowing that they go in and tidy up is a must.
5. Hot Water
This amenity was non-negotiable a few months ago. I swore I hated cold showers and a cold morning shower could quickly ruin my day. After traveling through SE Asia in hot season I still don't fully support ice cold showers, but I am able to stand them. When my skin is burning hot, I can now admit that a colder shower does feel great and quickly cools you down.
Some people insist on private bathrooms, TV's or lockers to store their stuff, but as long as I have at least 3 out of the above 5 amenities I am usually a happy camper!
What are the amenities you can't live without?