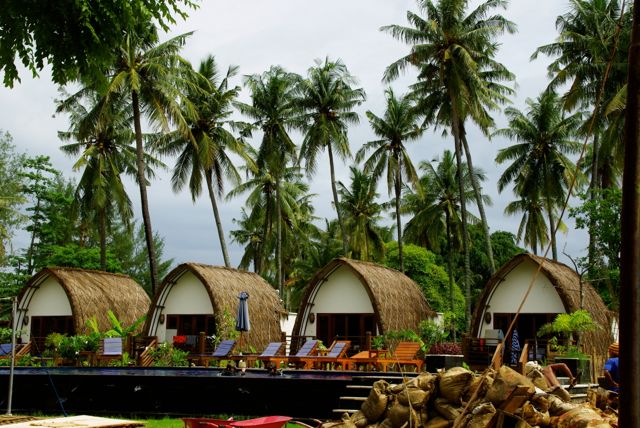 Name: Oceans 5
Where: Gili Air, Lombok, Indonesia
When: March 2012
Price: 450,000 – 600,000 IDR / night (Low Season)
Who helped us? [Service]
We have stayed at guesthouses were everyone is actually family, and
here at Oceans 5 you get the same feeling. Everyone that works here
becomes family by the end of your stay from Eda who cooks breakfast,
Barry who does a bit of everything, to Simone and Sander who own
Oceans 5.
Fanny, our dive instructor was thankfully very
patient with a sense of humor. Trying to teach us to dive was a brave
move on her part, but we are so glad she didn't give up on us! We
spent three days watching videos, taking tests and diving 60 feet
below the surface. We never planned to dive prior to arriving at
Oceans 5, but we are leaving with pleasantly unexpected memories and a
newfound skill.
Simone and Sander have a passion for diving and teaching new
instructors which is fun to watch. We stayed during an instructor
development course and got to see how hard they studied to become PADI
certified instructors. Any question we had was quickly addressed and
answered, even when we extended our stay for an entire week they were
willing to work with us and shuffle people around to make it work. We were especially impressed with the clean-up dive each week and the turtle rescue program they run.
What did it look like? [Ambiance]
Picturesque bungalows overlooked a crystal blue pool. The dive shop is
at the center of the property and serves as a check in point and
central meeting ground for divers or guests. When you get off your
boat to Gili Air you immediately notice the breakfast bar to the right
of the dive shop. It's usually busy with tourists just off the boat or
guests staying in the bungalows. This is a great place to meet people
and enjoy a cold beer on a hot day.
Exciting changes are going on at Oceans 5 that should be completed
prior to busy season on the Gilis. An additional bungalow, a couple
new standard rooms and a restaurant are being built to better serve
the arriving guests, which is all the more reason for me to return to
check out the new updates later this year!
Did we sleep? [Room]
We opted for the standard room since we are trying to stick to a tight
budget. The standard rooms are simple with one queen bed and one set
of bunk beds. The bed is one of the more comfortable ones I have slept
in this year. After a long day of diving or walking around the island
I was quick to come back to our room and crash. All rooms have air
conditioning, attached bathrooms and are cleaned each day.
Were our stomachs full? [Food]
Oceans 5 did a great job of supporting my yogurt habit. Back home, I
ate greek yogurt daily with fresh fruit. When breakfast is included
you usually get pancakes, toast with eggs or breakfast sandwiches. I
was delighted to see yogurt and fruit as one of the options for
breakfast. Josh rotated through them all trying the banana pancake,
toast and eggs and jaffles. Each breakfast was accompanied by fruit
juice and coffee or tea. We left happily full every morning ready to
start the day.
Another perk of Oceans 5 is they have complimentary water refill, tea
and coffee. For someone who likes to stay hydrated it was nice to be
able to refill my water bottle as I was leaving the resort.
How quickly could we surf the web? [Internet]
Using the Internet as much as we do, we realize that connections will get cut off or be weak at times. During our stay here we had multiple denied attempts at signing on to Internet. Oceans 5 uses a hotspot login system instead of just having one Wi-fi password and it seemed someone was always using our login. We stayed here during a busy diving instructor course, so there were many other people using the Internet. Once we were able to sign on it worked pretty well and we were able to skype home, upload pictures and blog.
When we travel to such beautiful places like Gili Air we have to
remind ourselves that we are on an island and sometimes no Internet is
a sign that you need to get outside and enjoy the weather. 🙂
Where is Oceans 5 Located? [Location]
The Gili Islands are located off the west coast of Lombok and a quick
1.5 hour fast boat trip from Bali. Gili Air is the island closest to
Lombok – much quieter than Gili Trawangan – and more populated and
happening than Gili Meno. It was a perfect in-between for us.
Once you arrive in Gili Air, there is no way to miss Oceans 5. It is
located on the south end of the island directly off the harbor. It
makes transporting your bags to your room rather easy and it is
entertaining to watch everyone get on and off the boat at the harbour
throughout your stay.
Would we go back again? [Overall Thoughts]
We came to Gili Air on a whim and ended up extending our stay for an
additional week at Oceans 5. We enjoyed spending time with the owners,
dive instructors and other guests. There is a positive vibe at Oceans
5 that we thourougly enjoyed and we would love to return. In every
location, people we meet tell us you have to go here next and list off
the beautiful places they have seen. At Oceans 5 we saw the opposite.
Everyone ends up staying here 2 weeks to 2+ months. No one was in any
hurry to leave and it was nice being able to sit and enjoy a peaceful
beach with an active community of guests.
Disclosure: We received a discount off our room from Oceans 5. As
always, the opinions expressed here are our own.