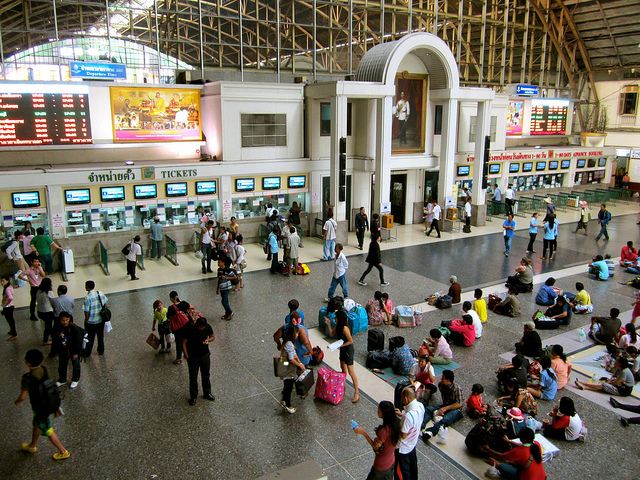 It started with the good.
We took our flight to Singapore from Bali to connect and go on to Bangkok. In Singapore we were lucky to enjoy the Cathay Pacific Sky View lounge where we caught up on the lack of food from the last 24 hours and enjoyed the coffee and other beverages. We left stuffed and happy and ready to take on the next 24 hours of trains. The Bangkok city trains were easy, about 75 baht and only an hour later we were at the Hua Lamphong train station in line to book our trip.
Then came the not so good.
I had heard the overnight trains book up early, but optimistic Caroline insisted we would be fine. Once at the airport the guy that worked there checked the schedule and informed us that the sleeper cars were sold out (I am still questioning his honesty on this information) but there were train seats available and the train didnt leave until 10 pm. Luckily there was an overnight bus that left in 2 hours and if we were going to be sitting what did it matter whether it was on a train or bus? The bus also took us directly to Krabi where we wanted to go instead of the train where we would still have to take a three hour bus from Surat Thani to Krabi that next morning.
The bad came when we arrived on the bus.
Not at first, but 2 – 3 hours in we both started to realize it was going to be a long 24 hours. 3 hours in we stopped on the side of the road for almost two hours and picked up an additional 10 -12 people off a second bus where the air conditioning had broken down. The more people added extra heat and filled up the once empty seats. The seats "reclined" but the comfort wasn't helped at all by the small degree of lean. Our bus stopped every 3 hours to drop people off or take a break. You'd think a break would be nice but in reality the lights are thrown on, the driver literally screams the name of the stop we are at (and while loud, still sounds like gibberish) and it takes about 30 minutes until we start moving again. This made it impossible to sleep.
The smelly came a few hours in. I can't tell you who or what did it but I can tell you it was coming from directly below us and once in awhile (every hour) the bathroom door would swing open and everyone on the upper level would come close to losing their Thai food dinner. I am not sure if anyone has written unspoken overnight bus bathroom rules, you might see that post pop up here later. If you have serious business to do I suggest you try your darndest to get it done prior to boarding the bus. I understand when you gotta go, you gotta go, but it makes it awfully smelly for the rest of the 20+ hours the rest of us are trying to sleep.
Will I take an overnight bus again?
Yes, despite the lack of sleep, bumpy roads, smelly bathroom and numb booty, when the ride was over we were at our destination. Mission accomplished. I like the idea that I saved a day of travel and got it over with at night, a quick nap and we were on our way exploring and enjoying the sunshine.
What's your worst overnight bus/train experience?