I found myself in a sea of people with a bright orange sticker that said "Phi Phi" on it in big letters, which we later coined as a "sucker sticker." About 50 people were on the beach in the morning with me waiting for our boat to the island of Koh Phi Phi from Railay beach. That morning I already knew the next two days weren't going to be the beautiful paradise that I had somehow expected. I blocked out everything telling me this was a party island and I had convinced myself I would find a pristine beach waiting for me.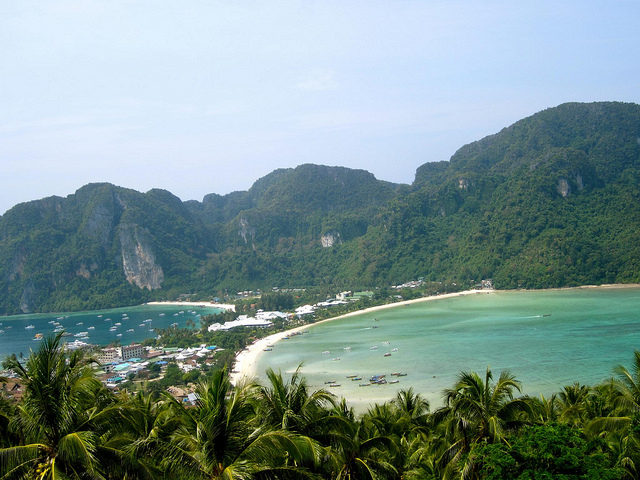 I had already thought Railay was a bit more touristy than I preferred and when I arrived on Koh Phi Phi I was shocked by the number of people, tourists and shops lined up waiting to sell their next straw hat, bikini or bucket of alcohol. The few beaches on Koh Phi Phi that had a chance of being beautiful were so busy with people that if you could find a place to sit down you might be able to enjoy it. The rest of the beaches, specifically the party beach is most likely still trashed from the night before. Once you see the partiers using the ocean as their personal bathroom or barf bag, I guarantee you will lose any desire to take a dip during the heat of the day. Again, these are my own experiences. Everyone has their own opinions and every traveler has their own stories to tell.
Iconic – My expectations were set in that everyone told me while on the Andaman coast you have to go to Koh phi phi. The beaches are beautiful specifically the one from the movie "The Beach." It fascinates me to see how movies can blow up tourism in specific areas. I have yet to decide if that is a blessing or a curse. Along with the extra cash flow into the island, the beach that was once famed as beautiful and picturesque is now overrun with tourists and snorkeling boats.
Dirty – Upon arrival every tourist pays 20 baht to enter the island to "keep Koh Phi Phi clean." Unfortunately, you have to assume that this money isn't making it back to the land. As I mentioned earlier the main party beach is full of people throwing up and urinating in the water in the evening. Garbage is everywhere, even the locals don't seem to care about keeping the trash off the street and if they don't care about their island why would anyone expect the tourists to?
Overpriced – After traveling through Thailand and then arriving in the islands you get a bit of sticker shock. The same sunscreen, fruit shake or casual dinner is instantly 3-4 times more expensive. If you are able to find a decently priced room, you most likely lowered your standard of living. There are nice accommodations on the island but you will definitely be laying down some baht, so don't expect to save money. Also, we are used to seeing higher prices, but are able to seek out the hidden gems of cheap food down side streets and alleyways. Here it wasn't like that, everywhere seemed to collude and pad thai, fruit shakes and even accommodation was the same price everywhere.
Culture – When you arrive on Koh Phi Phi you don't feel like you are arriving in a different country. You could be on any beach in the world, there just happens to be limestone cliffs surrounding you. All of the restaurants serve western food and advertise an American or English to pull the tourists in. The food was fairly generic. By the end of my time here I craved a spicy, burn your face off curry that humbles me and reminds me what country I am in. The island is pure tourism at its finest (worst).
I realize that my opinions come off as negative, plenty of people love this island which is why we went to see it for ourselves. Honestly, Railay probably ruined it a little bit for me because it was so beautiful and quiet. When I am on an island I enjoy walking along a beach where I may not see any one else for an hour. Or sitting and listening to the waves crash against the sand in a peaceful quietness. I enjoy wandering around the island not being asked to purchase something every step. I love a drink or two at sunset, not a bucket or two until I can't walk every night. I personally won't return to koh phi phi, there are too many other beautiful Thailand islands to see. I had to see it for myself and maybe you do to – but don't say I didn't warn you.