After reviewing the options for transportation from Thailand to Luang Prabang we narrowed it down to these:
Flight: More than we wanted to pay
Bus: After our bus experience from Bangkok to Krabi we try to avoid these when possible
Fast Boat: Requires a helmet and risk of death
Slow Boat (public): Shoved into a small space with hordes of people and random pieces of furniture
Slow Boat (private, specifically Nagi of Mekong): Same size boat, with only 20 – 30 people instead of 100+, including meals, tours and accommodation
After doing our research, we chose the Nagi of Mekong, a two-day boat trip down the Mekong River, starting in Chiang Khong and ending in Luang Prabang. Adisak, the owner of the company, gave us a great first impression by his quick response to email and willingness to help. We were also impressed when he stopped by 20 minutes early on Day 1 to drop off the Laos immigration and visa forms so we could fill them out prior to crossing the border. This helped speed up the process for our group in addition to help from Phet, our guide for the trip. Laos immigration can be a messy situation, so it helped having Phet by our side to direct us through the chaos.
Phet is originally from Luang Prabang and has worked with Nagi of the Mekong for the past few years. His English is excellent, and we enjoyed learning the history of Laos and Buddhism as our cruise went along. He is able to offer many tips for traveling in Laos and itinerary questions along the way.
Since it is low season our group was small, 4 Australians, 1 Swiss and us. We were all grateful to have so much room on the boat and it allowed us to get to know each other well. Free coffee, tea, water and bananas were provided each morning and after we got our drinks it was time to head out on the water.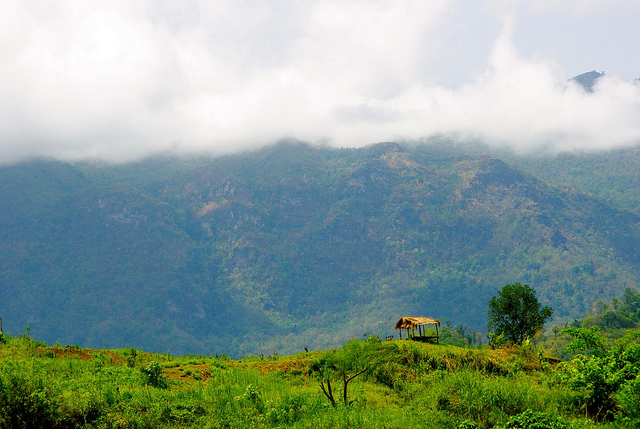 Within an hour on the boat Josh and I both knew this would be one of the best experiences of our trip. We couldn't believe the beauty of Laos along the Mekong. The busy families on the banks working while the kids played, the fishermen in their boats, the wild water buffalo and beautiful green mountains were around every turn. It isn't often that you get to experience truly untouched nature.
Lunch came just in time and the buffet of food was delicious. Potato and pork curry, fried vegetables, hot soup, and rice filled our plates. With group buffets my expectations aren't high, but the entire group agreed it was something to be looked forward to on Day 2. The first day on the Nagi of Mekong is 7 – 8 hours long including a stop at a local village. Some in our group read or played cards, but most of us lounged in the front of the boat chatting, taking in the views and photographing everything we could!
The village visit on Day 1 was uncomfortable. I usually would say that I would rather see a "real" Laotian village but in this case, I would have rather gone to a "tourist village" where they are trying to sell me something (and I don't really like going there either.) It felt as if we were invading their privacy. There was a donation box in the center of the village, but they seemed self-sufficient and it felt pointless to hand over some Thai baht (all we had because we left from Thailand) to someone just because they live differently than we do. We found out later that they could have used some pencils and other school supplies or clothing, but we didn't know that ahead of time. I would recommend bringing along some school supplies if you visit one of these villages in Laos. It was nice to see, but I would have rather left the villagers alone to go about their day.
Back on the boat after the village visit and we had an hour left until we reached Pakbeng, the halfway point on our voyage. The sunset over the mountains was one we will never forget. Our group wasn't sick of each other yet and we spent the evening walking through the town and eating dinner at a surprisingly good Indian restaurant.
Day 1 was long and we were all exhausted as we trekked back to our hotel rooms and quickly fell asleep in preparation for Day 2!
Read about Day 2 on the Mekong
Nagi of Mekong Contact Information:
Email: adisak.star at gmail dot com
Telephone: +6688-8011282 or +6653-196638
Skype: adisak.star