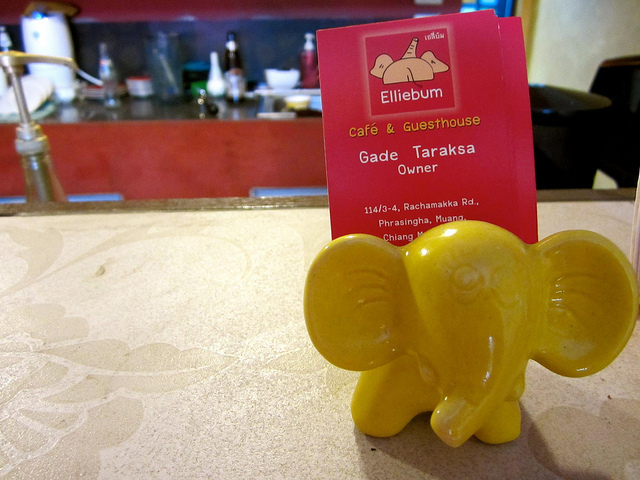 Name: Elliebum Café & Guesthouse
Where: Chiang Mai, Thailand
When: March 2012
Price: 1,000 – 1,400 baht / night
Who helped us? [Service]
Gade, the owner of Elliebum is a delight to spend time with. We couldn't review this guesthouse without highlighting her. She greets you every morning ready to prepare the most delicious breakfast and cup of coffee. She is also a great resource for what to do in Chiang Mai. Gade knows the city well (if you have time, join her on a food walk around the city!) and is helpful in giving directions, renting motorbikes or finding markets in the area you can visit. Don't be alarmed if you see a British guy walking around, Paul, her husband is always willing to lend a hand.
What did it look like? [Ambiance]
Elliebum is by far the most colorful and happiest guesthouse we've been to. Every detail of the decor is unique and hand picked out by Gade herself. The café downstairs is a relaxing place to sit and work on your computer or read a book from their library. The room is warm and welcoming with colorful paintings and cute elephant details. There is a couch in the room offering you a place to sit and enjoy your coffee, along with a desk and chair to read or get some work done. The bathroom is clean and the water hot. We appreciated the two bottles of water delivered to our room and the hot water kettle which allowed us to make tea and coffee any time of day. We can't tell you how the TV worked since we didn't turn it on at all for the entire week we stayed at Elliebum, but it is included along with a DVD player.
Did we sleep? [Room]
The bed here is quite comfortable. Every night Josh and I would be thankful for the air conditioning and just the right amount of sheets and blankets to keep you comfortable all night. You will notice in the photo we had two twin beds vs a double bed. There are two rooms at Elliebum and instead of switching mid-week we opted to keep our own beds for a few nights.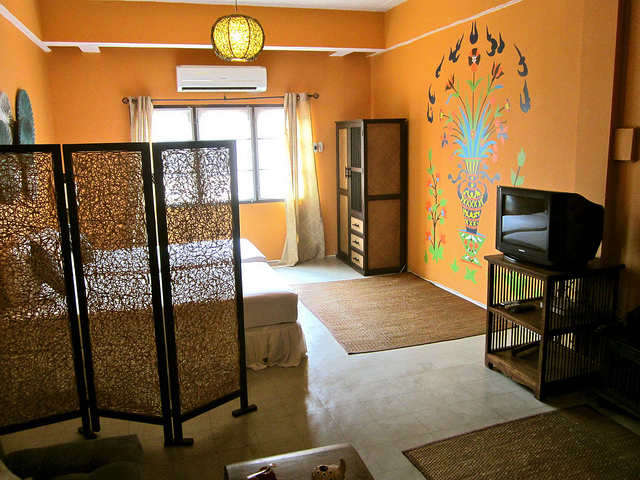 Were our stomachs full? [Food]
Your stomach will be grateful when you realize how great of a cook Gade is. Her coffee is by far some of the best we had in Chiang Mai and her curry dishes make me want to lick the bowl clean. The Penang and Green Curry are delicious as well as the Thai-style omelet with rice and Cashew Chicken Stir-fry. The fruit shakes, which all have a creative name with the world "bum" in them are a must. Some of our best meals were at Elliebum.
How quickly could we surf the web? [Internet]
Our uploads were quick as well as our downloads, which keeps Josh a happy guy. A lot of guests at the café would bring their computers and sit for most of the day enjoying the atmosphere and fast Internet! Staying connected and keeping up with our work is important, especially when we are staying in one place over a week.
Would we go back again? [Overall Thoughts]
We already have a request to return in June if that answers this question. We love Elliebum and the only reason we left was because both of the rooms were fully booked in the weeks leading up to Thai New Year. There are only two rooms so get your reservations in early, and you won't be disappointed by planning ahead. If you can't get a room here I would recommend stopping by for one of their guided food walks or for a meal in the café. We enjoyed learning about the history of the city, influences on Thai food over the years and tasting a variety of flavors at the market with Gade.

Disclosure: We received a discount off our room from Elliebum. As always, the opinions expressed here are our own.