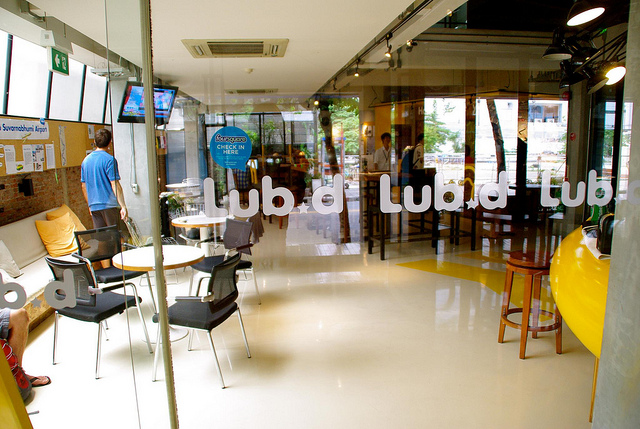 Name: Lub d Hostel – Silom
Where: Silom, Bangkok, Thailand
When: March 2012
Price: 350-700 baht / person / night
Who helped us? [Service]
The front desk at Lub d was always full of smiling faces. You were always greeted as you entered and the mass amount of information available was so helpful. Maps outlining where to eat, what to see and where to walk are available to you as well as organized events to participate in with other guests.
One thing that stood out on Lub d's website was their host profile. Reading through them you get a feeling of the hostel and the staff working there. You can tell everyone loves travel and enjoys meeting the guests that come through.
What did it look like? [Ambiance]
If you have ever played the GoldenEye 007 game, it feels as if you are walking through the facility level. The decor is industrial, yet modern and clean. It is hard to explain, but it is an intriguing atmosphere and you have to experience it for yourself. The second floor has both a laundry room and theater for nights that you prefer to stay in. The pictures below will give you an idea of what to expect.

 
Did we sleep? [Room]
After nine years of being together, Josh and I experienced a first while sleeping here at Lub d. We slept in bunk beds! No, we didn't sleep in the same bunk, we split up and each took our own. We each had our own outlet next to our bed and our own blanket. I think we both slept better than we have in a long time, especially compared to the overnight bus we took the night before. Lub d means "sleep well" in Thai, and it fits perfectly. The room was fully equipped with air conditioning and comfortable pillows and mattresses so we didn't have to worry about night sweats in the 90 degree heat.
Were our stomachs full? [Food]
We were so happy to be back in Bangkok, delicious street food was everywhere again! The first day we went on fresh fruit overload and were overjoyed to find espresso drinks steps outside of Lub d. Lub d had a cafe where they sold breakfast and drinks, but we were so happy to have the yummy food outside we didn't hang around long enough to taste any of their food. It did look tempting when we saw the other guests eat breakfast.
How quickly could we surf the web? [Internet]
The internet here was fast, and while we continually disagree when places use hotspot software to limit the amount of people on the wi-fi, we didn't have too many issues. There was a central hub downstairs with 6 computers that guests could use for free, which was great for tourists traveling sans computer.
Would we go back again? [Overall Thoughts]
We wish we would have scheduled more time to stay in Bangkok and at Lub d Hostel. Two nights was not enough time as Lub d sponsors walks around the city and arranges Friday night events for the guests to all go out together. This is a great hostel to stay at if you want to meet other travelers and have a group to go out with in the city to explore.
More photos of our stay in Bangkok and Lub d Hostel at our Bangkok Flickr Set
Disclosure: We received a discount off our room from Lub d Guesthouse. As
always, the opinions expressed here are our own.