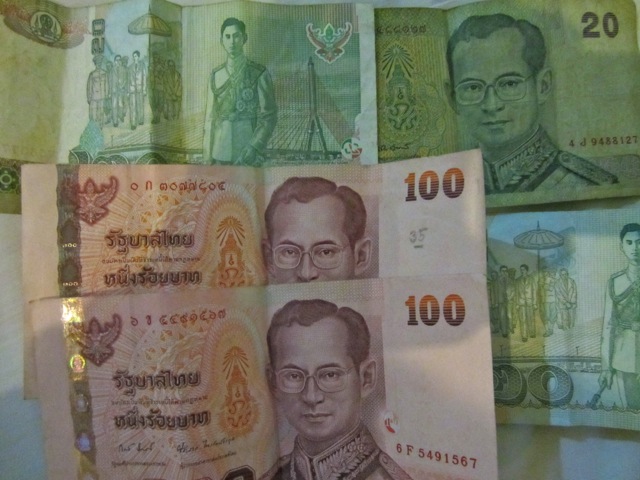 For Thailand, we stayed 26 days and budgeted $45 per day for two people, which was right on target for the type of trip we did. We spent an average of $42.12 per day. (All numbers are total for the two of us, items like visas, fees, activities and food can be split in half to get a per person amount.)
Exchange rate: 30.85 THB = $1 USD
Just about every Thai ATM we used charged a fee of 150 baht ($5). This would have affected our budget had we not had our trusty Schwab Investor Checking account. Instead of paying ridiculous fees, we ended the month with this nice little line on our statement:

Boo-yah!
Below, you can see a breakdown of our 3.5 weeks in Thailand by category:
| CATEGORY | USD ($) |
| --- | --- |
| Lodging | $418.49 |
| Food | $360.11 |
| Misc. | $119.55 |
| Transportation | $236.26 |
| Activities | $33.66 |
| No Visa Required | $0.00 |
| Total Spending | $1,095.13 |
Budget Notes:
For lodging, we stayed in guesthouses as usual. We ended up with a discount at nearly every place we stayed along with some free nights which really helped keep this low. Again, it's entirely possible to stay for this budget, we used our discounts to stay in nicer places.
Food was disappointingly expensive and generally unauthentic in the Thai islands (Railay, Koh Phi Phi, and Koh Lanta). We were underwhelmed by most of the food we ate there and saddened that each menu also included Western food. Once we got to Bangkok and Chiang Mai, the food was delicious, authentic, and cheap. We spent about the same, but ate probably 3 times as much food as we did in the islands.
Misc. included "keep this dirty island clean" bribes entrance fees, a hat and dress for Caroline, new flip-flops for Josh (The Bali ones cut my feet so bad they got infected), band-aids for said feet, laundry, postcards, toilets, bug spray, sunscreen and toiletries.
Transportation included two overnight buses (Bangkok – Krabi, Koh Lanta – Bangkok), Taxis in Bangkok, Krabi and Chiang Mai, an overnight train to Chiang Mai and another bus ride from Chiang Mai to Chiang Khong.
Activities includes two motorbike rentals and gasoline, and park entrance fees. Our main activities in Thailand were spending time on the beach, walking, eating, working, walking while eating, walking on the beach, walking some more, and then eating. We didn't have any outlandish "Adventure" spending while in Thailand.
BUDGET SUMMARY
USD ($)
Daily Spending
$1,095.13
Adventure & Misc Spending
$0.00
Total Spending
$1,095.13
Daily Average
$42
Daily Average (All Included)
$42
Considering how long Thailand has been a backpacking destination, it is still very affordable. We were disappointed in how unaffordable the islands were (for our strict budget) but part of that was being there during high season. We had trouble finding necessities like sunscreen, bug spray and shampoo at a reasonable price. In Bangkok and Northern Thailand the food is cheap and unbelievably good and there are many more and better options for budget accommodation. (We paid more for a total dump in Koh Phi Phi than we did for an amazing place in Chiang Mai.) We don't have to recommend Thailand to anyone because it seems everyone already knows! We can't wait to return in June.
Budget Travel Tips for Thailand
Negotiate for everything, accommodation, transportation, tours, etc. You may not get your price, but it's worth a shot.
Negotiate well, but remember to put it in perspective. The $1-2 you may be trying to save could mean a lot more to the vendor you are negotiating with.
Look for guesthouses and food stalls off the beaten bath. You can save a ton of money by walking a few extra steps.
Unless your transportation uses a meter, be sure to agree to a price in advance.
Spend the money you would use for a tour on a motorbike rental and show yourself around town.