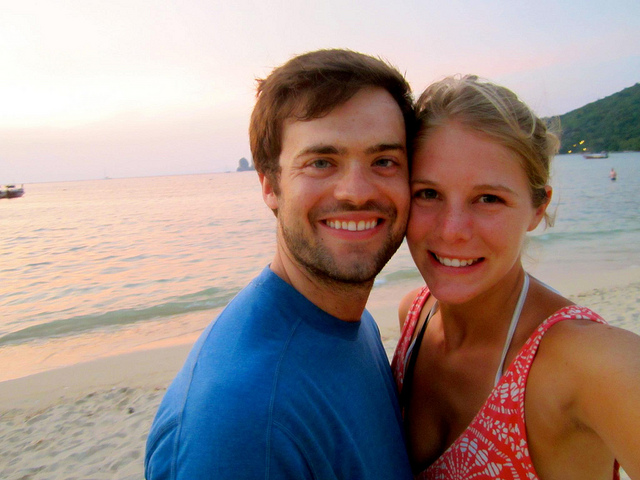 2 months done. Thank you for all the support and kind words for the past two months! We are going to focus our recap this month on our packing list. What we brought, what we wished we hadn't brought, what we have lost, etc! Leave your comments with your own packing concerns or changes. You never know what to put in your bag until you get out on the road!
Our stats, updated as of (25 Mar):
Number of days on the road: 61
Number of countries visited: 3
Number of beds slept in: 11
Total miles traveled: 13,488
Number of flights taken: 5
Overnight buses/trains: 3
Amount of time spent in the air: 26 hours
Number of squat toilets used: 2
Number of airport lounges: 3
Number of times sick: 0
Blog posts written: 176
Times washed clothes: 4
Things stolen/lost: 0
Things broken: 5 (josh flip-flops, hole in pocket, camera, trimmer, headlamp)
Passport stamps: 9
Visas: 3
Number of California Pizza Kitchens: 2 (Hong Kong, Singapore)
What we couldn't live without
We will keep this list to our three most essentials:
Cotton Sleep Sheet – This is interesting to us because we bought these a few days prior to leaving and were unsure about carrying them around with us. Budget guesthouses and hostels don't always have cleanest or highest quality sheets and it helps us sleep soundly knowing that we are climbing into our own sheets. We don't pull them out at every place we stay, but we are so happy to have them when we need them.
Amazon Kindle – Forget that we can read so much on this thing, it gives us "emergency" internet access when we need it. It's gotten us directions and important emails and has worked great in every country we've used it in so far. Best of all it's free!
Teva Sandals – We walk A LOT. It's our favorite way to explore a city. In Bangkok we went on a 11+ mile walk exploring all over the city. We prefer not to wear tennis shoes when walking around in 90 degree heat, these Tevas are perfect for our long walks or hikes to keep our feet supported.
What we haven't used at all
Wireless computer mice – We both brought one and neither of us have pulled it out yet.
USB drive – We brought a couple of them for storage purposes and moving documents between computers. Josh might have used his once, mine is still where it was first packed away.
Medications – This one is for good reason, we have yet to be in any high risk malaria areas, luckily havent suffered from travelers diarrhea (knock on wood) or been subject to any altitude sickness
Makeup – For some reason I pictured myself using more makeup, not every day but occasionally putting some eye liner on. Now, I would simply carry some foundation, mascara and maybe a small blush or lip color at the very most.
What we have bought
Small black purse – Small and semi stylish. Caroline can carry around most of the items we need during the day (money, camera, important papers), without lugging around a big bag.
Shorts – We didn't plan well and left Chicago in the middle of winter. No stores were selling shorts for Josh to purchase so once we found some affordable decent looking shorts we picked them up. We still laugh at the fake Abercrombie label!
Flip Flops x 2 – Josh's flips broke during a motorbike mishap in Bali and my own wore too thin, so we each have a new pair now.
Hat – Negotiating is part of the fun right? I am awful at it, but practice is the only way to get better. I saw a hat I wanted and did what I could to get the price down. I got it lower by 1/3…not great, but not awful!
Sarong – This almost made the list of most used/loved item. We use the sarong as a beach cover, beach towel, blanket, etc. You will be surprised at what this one piece of fabric can do.
What we have lost
Headlamp – Not lost, but broken. Our headlamp is no longer with us and we are in search of a new one. Again, another item that we would both highly recommend to all travelers. This is great when you are staying in a hostel to find your way around the room at night, as a reading lamp, or as a flashlight at night. Another very useful travel tool.
Overall thoughts on packing for our RTW trip
Overall, we are pretty content with what we packed. We aren't lugging around a ton of extra weight, and we are using pretty much everything we bought. We may be wearing the same clothes over and over again, but it doesn't bother us too much. Buying the small Osprey Stratos 36 packs was a great decision, as we generally have the smallest packs of anyone we see and have only had to check them on one flight.
Thoughts on our itinerary
We have really enjoyed where we have been so far. We would have kept Hong Kong to 3 days, but with getting over jet lag the 5 worked out well for us. We loved Indonesia and wish that our visa extended longer than 30 days. We were happy that we kept our schedule open by not making plans or booking far in advance. Once we got to Bali and realized it wasn't what we expected we headed to Gili Air which wasn't even on our radar before we left. You learn a lot from travelers you meet along the way and by taking their advice and being flexible you could potentially find yourself in some pretty amazing places.
Also, we fell into an easy trap of putting some really stereotypical places on our itinerary. I am not one to shy away from the beaten path. Most times the touristy areas are touristy for a reason, there is something great to experience there! It is when you arrive and see more tourists than locals, get ripped off at every turn and have to deal with incessant touts that it loses its wonder. For the remainder of the trip we may skip some of the more popular places if they aren't high on our list.
Changes in travel style
Prior to this trip we said that accommodation wasn't our main priority. We were looking forward to the food and experiences and that is where our money was planning on going. After you spend the night without air conditioning and a half-hearted fan in 90 degree weather, or you shower with a colony of crazy-looking ants crawling up your wall your standards start to quickly change. We have been blessed to stay at amazing guesthouses that have made our stays in each place that much better. After a long day of exploring, coming home to a clean room with a hot shower or waking up in the morning with a cup of coffee and breakfast waiting can really make your day better. More than anything, discovering the kindess of the owners and their passion for travel and their country is inspiring!