They weren't kidding when they said there were no ATMs on the islands. My optimism lead me to believe, "There is no way that for the amount of tourism on the island they still dont have an ATM." The Bolaven Plateau, which wasn't supposed to have any ATMs seemed to have them every 10 km. We visited the small island of Gili Air earlier in the year and they already had their first ATM, installed just 3 months prior to our visit. We had gotten out what we thought would last us all 5 days on the islands. We guessed wrong.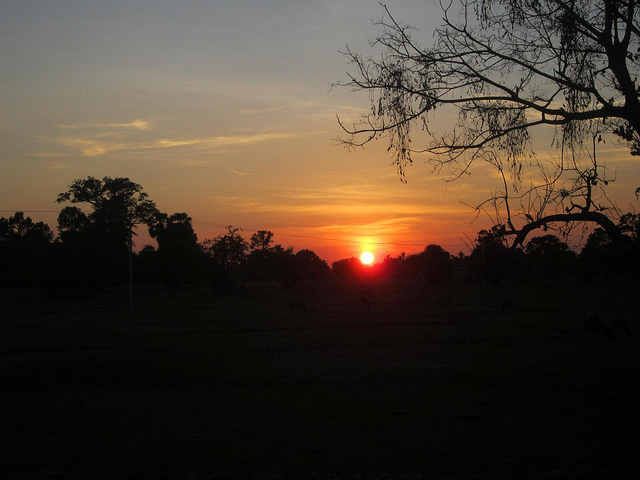 Pro: The sunsets were breathtaking and worth the trip to the islands
Con: On Don Khon there is a small stretch of dirt path to stay on, if you cross the bridge or venture to the other side of the island where the waterfall is you have to pay 20,000 kip per day.
Pro: You got to ride over on one of these fun boats
Con: You have to haggle with grumpy boaters prior to getting on the boat
Pro: Pan's guesthouse was a comfortable bungalow for us to relax at
Con: Accommodation was much more expensive than we had calculated originally from an outdated guidebook (which increased our dilemma of not having an ATM)
Pro: After almost every meal we took a short nap
Con: We ran out of money so every meal was noodle soup, the cheapest item on the menu (but still delicious)
Pro: We had internet
Con: We didn't have any money
Pro: Our next stop was Cambodia and we met great new friends who lent us $4 to get our Visa or we would have not been able to enter.
Con: We had to borrow money from strangers because there was no working ATM between the 4,000 Islands and the Cambodian border.
We would have enjoyed our week more if we had estimated better how much money to take out of the ATM prior to arriving. The islands were a true tourist trap in the sense of we were stuck on the island and they charged $6 to get a boat to the nearest ATM in hopes that it would work. We were trapped, but luckily the main event on the island is lounging around doing not much of anything!