I previously wrote about what to do when you are picking a restaurant and don't speak the language. I outlined rules such as looking for photos and where the locals are eating. While some of these apply, what happens if you are in a new city and are at a restaurant where there are no photos, no one speaks English and you have four options to pick from? I suggest you keep an open mind.
Don't think too hard about the list, most likely you will have no idea what you are getting. Don't order the most expensive thing on the list, why waste the money if you don't know if you like it, but don't order the cheapest thing because this probably won't taste the best either. Go for a mid range price. You can also attempt to ask the person what they recommend, by pointing at the list and shrugging, but if that doesn't work, here is what you should do:
First, point at the meal you have blindly chosen: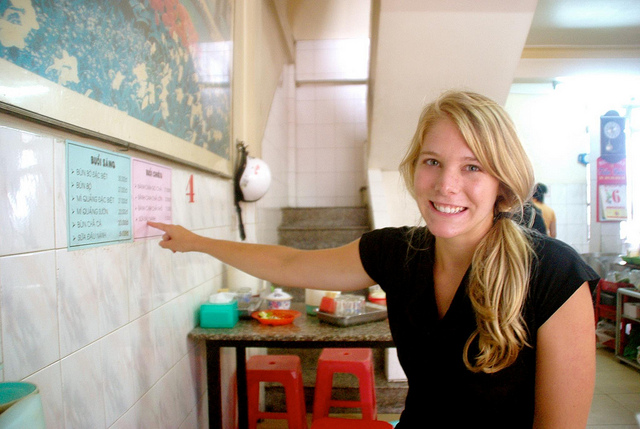 Let them know you only want 1 order for yourself:
Then smile big which says: "Yes, I have no idea what I just ordered but I am trusting you as my waitress to bring me something delicious."
You will most likely end up with something like this: mystery meat, in a questionable broth with overly chewy noodles. Traveling is about the experience…so dig in and plan on making a beeline the closest bakery in the case that it leaves a foul tasting flavor in your mouth.
Don't forget to take a photo of the menu or sign and do a google search of what exactly you ate.
At first, Google translate told us we ate: "Fathers and Big Wheels". On texture, I'd say it was pretty close. 🙂
Refining the translation gave us: "Tree Bologna and Bread Soup"
Still unsure. Let's just say I wont be ordering "bánh canh chả lớn" again. 🙂