So, I am not sure about the Tigers and Bears…But I know there will be Lions! And cheetahs and leopards and rhinos and elephants and hippos and…
We leave for Africa in 2 weeks! We have booked our 4×4, planned out our first week through Botswana and are still trying to figure out what we have gotten ourselves into!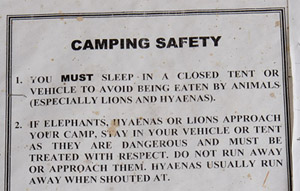 Thanks to RoundWeGo we were tricked inspired to self drive through Africa instead of hiring a tour company. In three weeks we will spend as much money as we have spent traveling through SE Asia for five months. This is our big adventure within an even bigger adventure that we have budgeted for, and are excited to explore an area that we have both been anticipating for a long time. I never knew if I would be able to travel to Africa, and now I am counting down the days until my flight!
We will be camping in Moremi Game Reserve, Chobe National Park, Etosha National Park and a short visit to Victora Falls over the course of 3 – 4 weeks. We are still working on our packing list, what types of food to carry with us in the car and the exact route to drive between parks. We have no idea what to expect but we are arriving at the airport at 6:30 AM, picking up our truck and hitting the road to Botswana.
Leave any tips, guidebook suggestions or personal experiences that you have had while traveling through Botswana, Namibia or South Africa. We need all the help we can get!