Once again, Thailand is convinced they can teach this city girl to cook.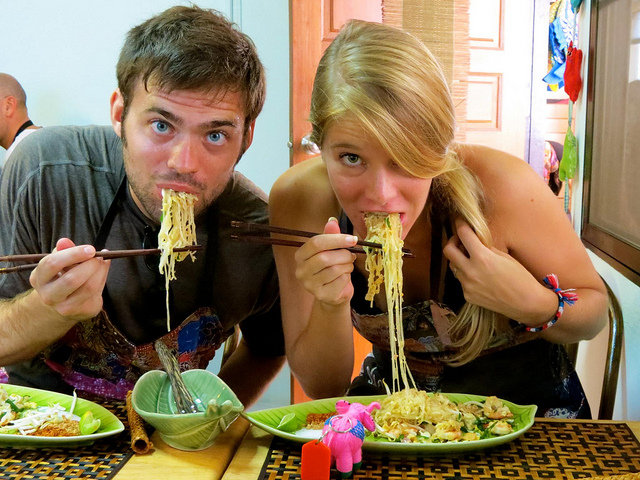 Silom Thai Cooking School in Bangkok offered to host Josh and I along with Josh's parents at their all-day cooking school. This time they weren't just asking me to stir and fry. I was in charge of beheading and deveining shrimp and squeezing my own coconut milk. Two tasks that might seem simple to the avid cook, but cutting open a shrimp and taking out its vein was very new to me.
We met at the Silom market in Bangkok. Oliver walked us through the aisles describing the Thai ingredients, their differences and how each are used. The group was limited to 8 people which made it easy to hear Oliver over the noise in the market and we all got to be very hands on with the food. Oliver made us laugh immediately and we knew that the day was going to be a mix of education and entertainment as he ensured us that real Thai's never cook and buy their coconut milk out of a can.
After the walk through the market we were quickly put to work washing, chopping and cooking the 6 Thai dishes of the day.
The Tom Yum Soup was by far my favorite. I put extra chilis in mine ensuring that it was deliciously spicy! This is a recipe that I am glad to take home and can only hope that it tastes the same. The fresh ingredients will be hard to find in the concrete paradise of Chicago but I know there are some small specialized grocery stores that I plan to visit when I return. The fresh galangal and lemongrass can't be replaced! Chicken Salad may sound boring, but the Laab Gai with steamed sticky rice is a Thai treat. Lastly, you can't go wrong with pad thai, a fried noodle dish that looks simple but after cooking it you realize the number of ingredients and cooking steps that enhance its signature taste.
My main reason for loving Silom's cooking class was Oliver. He went through the key ingredients each dish must have and then substitutes for the ingredients that weren't as essential. The details are what I love. Being able to actually pound the ingredients into green curry paste with the mortar and pestle and squeezing the coconut meat with the hot water to make the coconut milk. All of these details are why Thai food is so scrumptious!
Here are a few photos for your eyes to feast on!
Disclaimer: We were sponsored guests of Silom Thai Cooking School. As always, the opinions expressed here are our own.