My blog is live, I am traveling the world, this is really happening!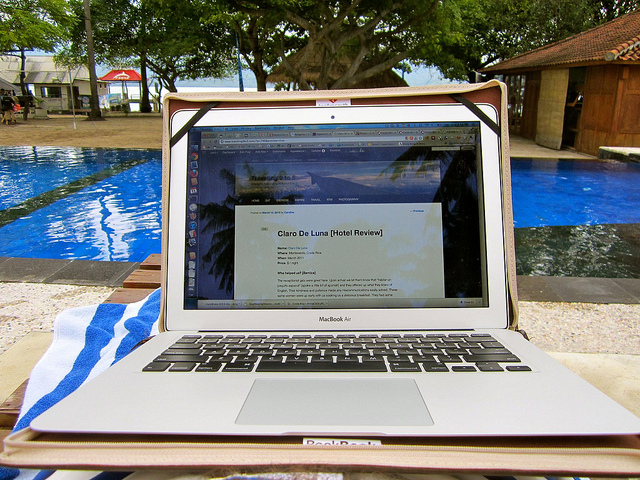 I have big goals. Goals that scare me. By the end of this year, Josh and I may fall flat on our faces, not in a fit of failure but as lessons learned and only to drive us to work harder. On the other hand, we may reach and surpass our goal, setting us up to set newer and bigger goals. The future is uncertain which is both exciting and terrifying. No matter what happens…we are in it together.
By the end of this year we will be able to support ourselves as Location Independent Travelers.
There, I said it. It is out on the internet and now everyone reading this can continue to judge us, support us or ignore us. But, from this point forward we are jumping in head first and giving it our all.
My mind races everyday when I wake up. Did our post go up? Is anyone reading my posts? Is blogging ever going to be easy? What can I do to get more involved in the community? How can I stand out? What makes Traveling 9 to 5 different? What keywords should I focus on? What topic should I write about? Did I spell check the last post I put up? What the heck is a Hoot Suite? Is SEO really that important? Did I upload my photos to Flickr? Did I upload too many? Not enough? Did anyone see that awesome shot of Angkor Wat I got? What is an Alexa ranking? Why isn't mine going down quicker? How do I get more links into my site? Is the theme on our blog the best? Should I change the background color? Am I tweeting enough? Am I posting on Facebook enough? Why didn't anyone comment on my last post? Where is everyone on the weekend?
Did I forget to eat lunch?
Yes, the cluster of questions is what it sounds like in my head. Continuous noise. It keeps me on my toes. It allows me to never get comfortable and always strive for the next improvement and action step.This is my personality so I am used to it, but for some you might be exhausted by now.
I don't mind sitting inside working while the tourists around me eat their breakfast and head out for a day of exploring. I schedule my days off to see the sights, I take breaks to enjoy the delicious food of the region but overall my goal keeps me here at this desk on this hostel bed typing, twittering and researching in hopes of achieving my goal. Josh and I will be location independent by the end of this year.
My desk is better than it used to be so I won't ever complain. Sitting under an umbrella on one of the best beaches in Asia beats an office with no windows any day. I work when I feel most productive, and I take walks through beautiful parks meeting new people when I feel less inspired at the keyboard. I am my own boss now and there are no meetings or status reports.
The travel blog community is a big network and I have only slightly dented the smallest corner of it. I know that there are many other bloggers out there who I haven't met and will want to help support me and I will return the favor five-fold. I want to meet you (really, leave a comment with your email/website/twitter). Remember, I am a newbie at this, my time management is getting better but I am still working on what to focus my time on. The percentage of time I spend blogging, social networking and still getting out exploring and being inspired is a work in progress. I want to be involved in TBEX and #TTOT. I want to guest post and leave comments on all my favorite travel blogs, I just need to figure out how to do it all.
I don't expect it to be easy. The blog has been up for 10 months, and only solely focused on for 5. The internet is overcrowded with travel blogs, directories, forums, advertisers and pure junk. I am working to stand out among all of it. I will put in the time. I will follow the suggested tips from the seasoned bloggers and I will think outside the box and train my creative muscles. We will be location independent by the end of this year. I know that Traveling 9 to 5 won't be able to support us, but it is a start. We have big goals remember? We aren't going to disclose all of our plans but over the year you will slowly see the projects that are now just in our heads.
I am grateful for the support I have received thus far. For everyone who reads my blog and puts up with my emotional rants. I love having the comments and banter. I want this blog to help you, inspire you and convince you that it is a big world out there and you don't have to be irresponsible or a hippie to travel across it!