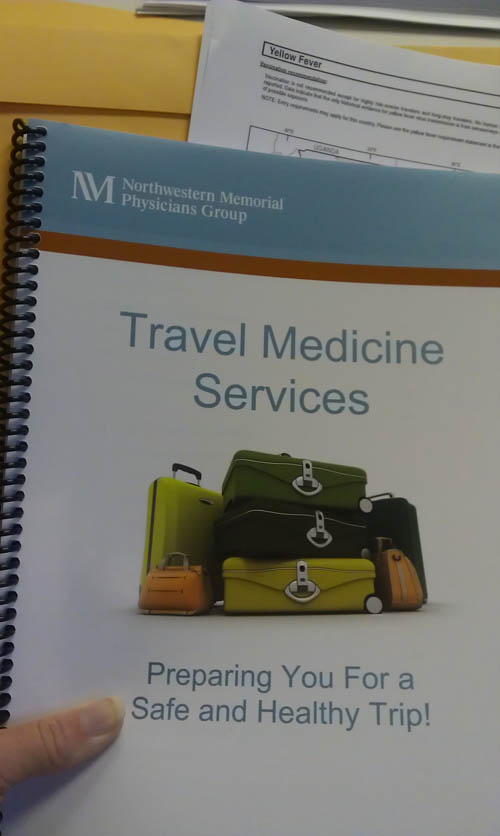 In all the excitement while planning for your trip, it's easy to neglect one of the most important items: your health. Yes it's highly unlikely you'll be bitten by a mosquito carrying malaria, or contract any of the other horrible diseases people worry about but that doesn't mean you shouldn't take precautions. Information, Vaccinations, and travel medication are all necessities you shouldn't travel without. Hopefully you can learn from a few of our mistakes below when planning your own trip.
What we did: Started thinking about vaccinations 5 months prior to our trip
What we should have done: Given ourselves at least 6 months prior to leaving
First, you need to find a good travel clinic. Your general doctor may have an idea of what vaccinations to give, but a specialist is going to know exactly what you need and will provide lots of helpful advice. Come prepared with your health history and immunization records, so they can easily determine what vaccinations and medications you will need. Since we didn't start 6 months early we were unable to finish out our Hep A vaccination for 100% immunity, but we still have the option of getting it while we travel.
Tip: If you do this while you are still covered on your previous employer's insurance you might get a price break. More companies are now covering preventative travel expenses, and while our clinic visit was around $100 we saved over $400 by having insurance cover the rest.
These are the vaccinations we needed for our specific trip:
Hepatitis A
Yellow Fever
Meningitis
Typhoid
Polio Booster
Tetanus Booster
In addition to the vaccinations, we were prescribed:
Anti-malarials
Altitude sickness medication
Traveler's diarrhea medication
You may need different vaccinations or medications depending on where your itinerary is taking you and your immunization history. We took our anti-malarials in Laos, but otherwise haven't needed any of the medications we were prescribed.
What we did: Saved our large packet of malaria and travel illness information for the 3 hour ride to the airport
What we should have done: Read through it prior to leaving, highlighting important parts and scanning the pages into Dropbox in case we need them.
The packet is full of useful information. The doctors at Northwestern Travel Medicine in Chicago are amazing. The packet contains maps for every country you are going to and where the risk of malaria is high and where not to worry. There are also pages of international hospitals around the world that you can call if anything goes wrong while you are traveling. It outlines risks in each country and suggestions on how to stay safe, healthy and come back in one piece. We waited to skim this valuable information on the car ride to the airport. Wrong idea. This is not an easy read, spend some time reviewing them and copy the important stuff on to your computer so you access it from anywhere. It's better to have this information available than have to recall from memory, "Is there malaria here?"
What we did: Waited to fill our prescriptions until the weekend before we left Chicago.
What we should have done: Filled our prescriptions at least a month before leaving.
The malaria medication that the doctor originally prescribed us was one of the best. It was also $400 per person for the amount of time we were traveling (this is more than our RTW tickets!) Since doctor's office hours are always limited, we cut it very close. We called her multiple times to have a new prescription written and adjustments approved. We ended up with doxycycline, which is much cheaper, but supposed to have worse side-effects (sun sensitivity and nausea). Luckily, we haven't had any adverse reaction to it.
These were a few of the mistakes we made while preparing for our trip, hopefully you can learn from us! Let us know what pitfalls you run into and how you prepared for your health on the road.