There are times when you travel and you want to do it yourself to seek out the adventure. Then there are the times where you need to pass over the steering wheel and put someone else in charge. This was one of those times.
Our parents were visiting us, we had one day left in Thailand and had yet to see the white temple and black house in Chiang Rai. We researched the bus route to get us there and then transportation to get us around Chiang Rai, but in the end it made the most sense to enlist the help of a professional. Paul with Blue Elephant Tours was our guide for the day and he was more than accommodating.
Expect a long day. It is a 3.5 hour drive from Chiang Mai to Chiang Rai and being in an air-conditioned car with just our family instead of a 50 person bus was a blessing. We were picked up promptly at 7 am and hit the road to our first few stops until we reached Chiang Rai. We choose the tour because we wanted to see the White Temple and the Black House, the additional stops were a great break in the car ride to stretch our legs and walk a bit.
The first two stops were at the Mae Khachan Hot Spring and The Fishes Palace. The spring is good for a quick photo. The fish were in a mass and their huge mouths begged for food at the surface. We fed them some handfuls of fish food and were shortly back enroute to Chiang Rai.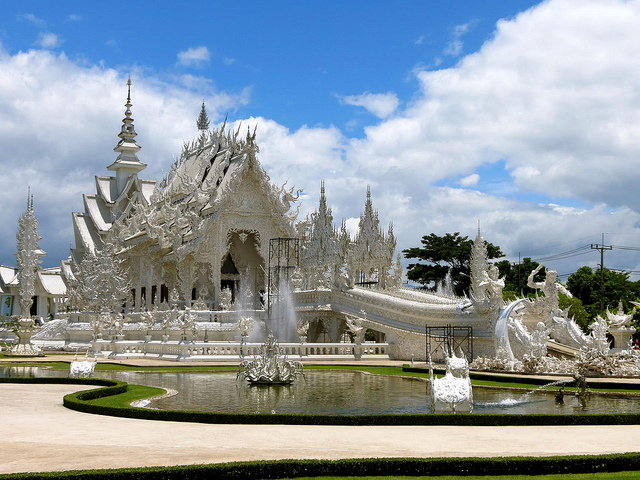 The White Temple was our first stop that truly made our jaws drop. The detail and design was breathtaking. Our family takes a lot of photos, and Paul was very patient and thankfully so. My favorite part of having a personal tour for your group is you don't have to worry about being rushed out too early or spending too much time at a sight you aren't interested in.
We were surprised to find the mural inside contained images of rocket ships, Spiderman and the twin towers. This is a sight you have to see for yourself. Michael Jackson wasn't on the list of people I expected to see on the wall of a temple in Thailand. Outside, the temple is painted white with mirrored mosaics decorating the walls, a shining vision of heaven.
In contrast to the stunning White Temple is The Black House which represents the darker side of Thailand. It was designed by artist Thawan Duchanee and is made up of 40 unique houses that are filled with sculptures, animal bones, and paintings collected from around Southeast Asia. The grounds are unusually peaceful as you walk through the black playground. Every fan, table and wall is something interesting to look at and will keep you wondering about the mind that created it.
Lunch was at a restaurant named "Cabbages and Condoms." While obviously a tour-focused restaurant, with an unfortunate name, the set lunch was delicious and offered a variety of Thai foods. The two mannequins at the door (brightly decorated with condoms) freaked me out as I kept looking over wondering why they were still waiting for a seat in the empty restaurant.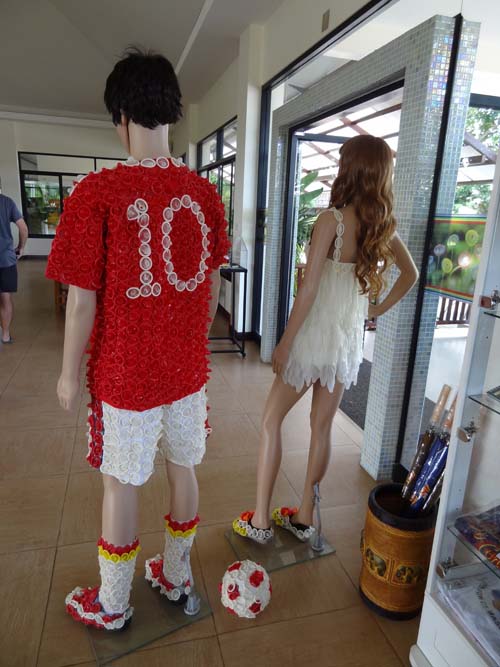 Our last stop was the Monkey Village. Monkeys personally freak me out. They are way too humanlike and full of attitude, but I realize most everyone else thinks these conniving little creatures are adorable. We watched them fight for food, roughhouse with each other like little boys would and jump in the river for a swim. The mothers as always are overly protective of their little ones, while the men walk around with testosterone emitting from their veins. As unpredictable and energized these animals are we were fascinated to watch and photograph them for awhile.
Our group opted not to go to the Thailand/Burma border town of Mae Sai. We spent a lot of time at the previous 3 sights and since it was already late we opted to start the 4 hour drive home. We climbed into our 4×4 and all fell fast asleep. We were exhausted! Paul got us home safely, gave us water when we were thirsty, fresh pineapple when we were hungry and cold towels to cool us down from the heat. For someone like myself who enjoys doing tours on her own, Blue Elephant Tours in Chiang Mai took great care of our family and surprised me with their top-notch service!
Disclaimer: We were sponsored guests of Blue Elephant Tours. As always, the opinions expressed here are our own.