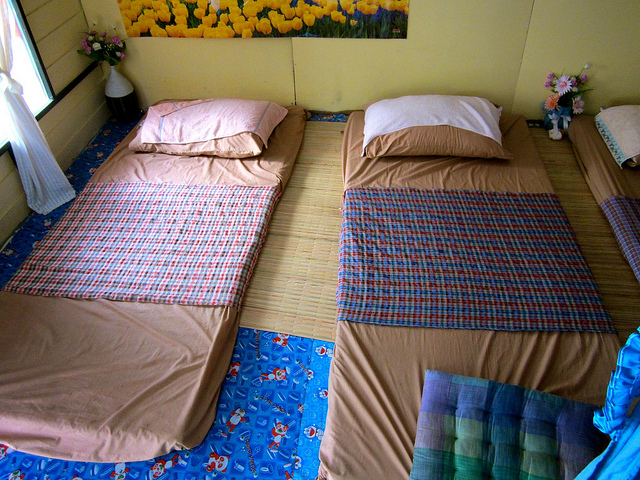 It was a lonesome one room house on the side of the street. It had no air conditioning, only four mattresses on the floor covering the room with one simple fan pointed at each mat. Upon arrival, there was nothing spoken between us. Some quick pointing and dressing and undressing and somehow in the mix of actions I was laying face up on a mat. The original Thai lady who greeted me was entwined in my legs, cleaning my feet and blessing them before she began the massage.
To give you an idea of what she was working with let me point out that I am 5'9″ tall and she wasn't anywhere near that.
There are no personal boundaries when it comes to a Thai massage. The precise towel draping and caution that my massage therapist in the US took was no where to be found here. I was quickly being folded and bent in all directions and was at the mercy of a lady half my size. Her strength amazed me and her precision and routine insisted she knew what she was doing.
Exercising the day before was suddenly an awful idea. My muscles screamed while she showed no intention of easing up despite my struggles, and certainly didn't understand, "holy crap that hurts." I focused on my breathing and repeated, "this has to be good for me," a million times in my head. My legs are wrapped around her as she digs every elbow, palm and forearm into my muscles. She felt me tighten with every touch and was convinced the harder she pressed the more she could save me from my tight, ailing muscles.
Once she was done torturing my bottom half she moved on to my arms and back. I flipped onto my stomach and surrendered myself to whatever she had waiting for me. My surprise came when she was suddenly standing on my thighs, holding my feet with her knees while grabbing my arms and lifting my chest off the ground. Yes this looked and felt as complicated as it sounds. I was holding back laughter at how this small woman could bend me into positions that before an hour ago I never had imagined I would get into.
At one point I looked something like this, but I am sure my face wasn't as relaxed as the one shown in the photo: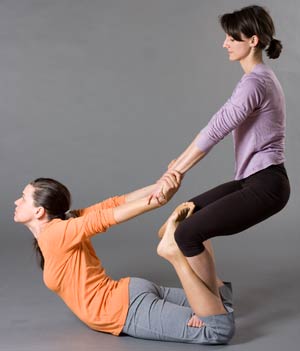 Maybe her prayer at the beginning wasn't a blessing, but prayer for my pain after the massage. The Thai massage was not a relaxing rub, but an active pursuit to loosen my muscles. It was a full body attack from every direction and I loved each painful minute. One hour of pain cost me $4 and I plan on returning during my next trip to be once again bent into a pretzel, Thai style.