The tour guide stood up in our 20 person van and asked a simple question, "Is anyone here a vegetarian?"
All I had to do was sit there. Keep my hand down and sit quietly. But I like vegetables… I like veggies a lot. When in doubt I always go for the vegetarian meal. Especially in Asia, I question some of the meat so I go for the greens. But for those next 10 seconds all I had to do was sit there. And keep quiet.
No one flinched in the van. And I really do like vegetables.
He asked again, "Is anyone in the group a vegetarian or semi-vegetarian?"
What was this? Against all rational thought and Josh's better judgement my hand shot up. I couldn't turn down the idea of being a semi-vegetarian. I had never heard the term before or had any idea what it was, but I was sure that I was one. He asked a few questions, probably also wondering what a semi-vegetarian was, and concerned if I eat fish or tofu. Everyone in the 20 person van was staring at me and in my head I knew I would eat anything, heck I had eaten a skewer of crocodile the week before. We fumbled around with some words and somehow when we were done, I was a self-proclaimed semi-vegetarian.
Arriving on our boat we checked into our room and all sat down in the dining room for our first lunch as a group and my first lunch as a semi-vegetarian.
They brought the group out soup to share and then they brought me my own personal bowl of egg drop/tofu soup. They brought out plates of delicious looking chicken and they brought me out a plate of something that was supposed to look like prawn but trust him, it was vegetables. The semi-veg in me was happy to hear it, and the foodie in me wanted to chow down on the chicken the rest of the group was eating. But I felt bad because they made the faux prawn just for me.
Next the group got clams and mussels, and I got a fake rubber-like substance that I don't think was supposed to look or taste like anything, just simply used to turn people off from ever eating veggies again. I did not feel bad about leaving that particular plate undisturbed. The next few dishes continued in this manner. I was torn between not wanting to waste food and finding all of the food truly un-appetizing.
In order to not bore you I will fast forward 6 plates of food later and just show you the photo. Yes, they personally made each dish for me, the one semi-vegetarian on board.
Was I grateful? Absolutely. Was I a bit embarrassed? Absolutely. Did I dare go back on my vow of semi-vegetarianism (whatever that actually is) Absolutely not. This was the first meal of a two-day jaunt though Halong Bay.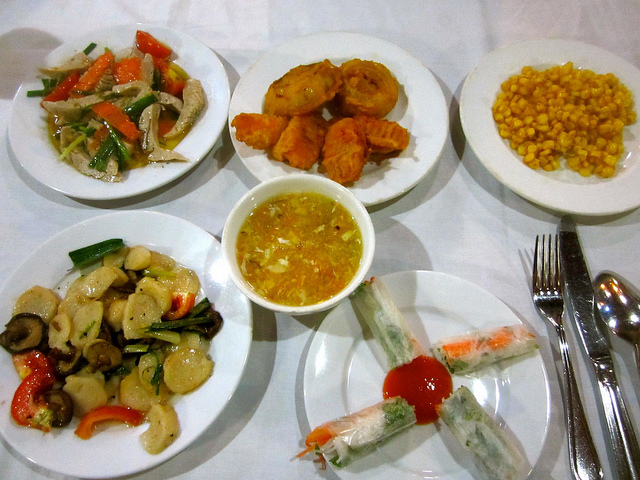 Dinner was equally torturous as I watched my fellow shipmates fill their plates with delicious squid, pork, prawns and chicken while I sat at the table, served an ungodly amount of vegetarian food prepared to resemble meat, or fried so deep that it was unrecognizable. I like vegetables a lot, and I don't mind meat on occasion but I really despise fried food.
While everyone had their choice from the buffet, I was served full plates of food, because I was the only one that hours earlier couldn't sit quietly and keep my hand down when asked a simple question, "Is anyone a vegetarian?"
I will never be vegetarian again.