After drinking too much of the endless wine options in Stellenbosch and waking up with berry jam all over my clothes, I decided it was time to find out what else the town had to offer besides wine. A city that boasts of its grape vines had to have more to it. We enlisted two locals, Hanli and Simone of Bites and Sites to show us around the historical and culinary delights in Stellenbosch.
These aren't just any South Africans, these are two of the most engaging, knowledgeable and caring women I have met in the country. The tour was a small group which allowed us to get to know each other better and made for a more personal experience. Our group choose to do the Classic Cape tour, but I was very interested in their newest tour Foodies on Foot. I will have to save that trip for my next trip to Stellenbosch!
We started at Dipped where we tried a variety of South African teas paired with rusks made from scratch. The decor was inviting and colorful, the blankets on the back of the chairs were an extra touch that was fab during winter! Our favorite teas were rooibos and honeybush.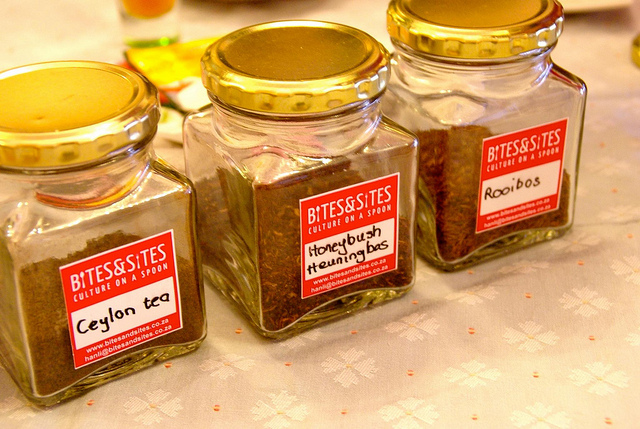 After the tea tasting we were ready to spice it up a bit with some biltong and wine pairings. We went to a local butcher for some freshly dried biltong. If you know me I am typically not a "beef jerky" gal, but this biltong was fresh and absolutely addicting. As I went back after the tour to purchase more I told myself it had to be a good source of protein…
We brought the biltong to Brampton Wine Studio and paired the dried meat with 3 different wines. Inside the wine studio you are instantly hit with color, personality and of course plenty of wine. The table was equipped with chalk and ready to be designed.
The small bites were delicious but around 1 pm we were ready for a hearty lunch. The 1802 Restaurant is a culinary landmark in Stellenbosch focusing on traditional Cape eats. They brought our group out a miniature version of the traditional chicken pie and Bobotie (baked spiced minced meat with an egg topping) served with yellow rice, chutney and vegetables.
No tasting would be complete without dessert, and with my sweet tooth you can be assured I licked my plate clean. We sampled milk tart, koeksister, amarula mousse and baked pudding, with the option of a port wine or coffee. I opted to satisfy my addiction and go for the coffee, while Josh tried the port.
The day was filled with not only food but Stellenbosch history. They suggested lots of restaurants along the way, one which we went to that evening and tried our first ostrich burger! We had a fantastic day eating our way through the town of Stellenbosch with the women of Bites and Sites.
Bites and Sites
+27 (0)76 032 8234
info[at]bitesandsites.co.za
Disclaimer: We were sponsored guests of Bites and Sites. As always our opinions (and taste buds) are our own.