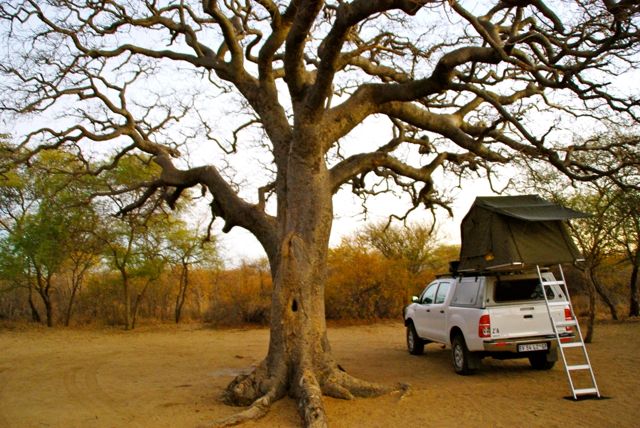 Wow. We've been in Southern Africa since our Lost in Africa post, and it's been the trip of a lifetime, yet we still have 6 months left around the world! The blog has been on auto-pilot for the past three weeks, so you may or may have not noticed that we weren't around.
In 22 days, we drove 6,400 km (almost 4,000 miles) through three countries. We dealt with deep sand, charging elephants, broken shocks and punctured tires. We saw lions, leopards, hippos, crocodiles, jackals, wild dogs, rhinos, buffalo and more elephants than we could count.
We spent nearly as much money in 3 weeks as we did over 5 months of living in Southeast Asia.
This was the BIG event in our trip, the extreme one, the part that took the most planning and the most preparation. This took us way out of our normal comfort zone and we really had no idea what we were getting ourselves into.
These three weeks were the scariest, the most adventurous and the most humbling.
Beyond seeing wild animals and camping under the stars, our experiences in new cultures and environments have moved us. We were told before arriving that Africa changes you, and it is true we have been altered, impressed upon and forever grateful for the experiences we have had.
This is one of the places that I thought I would only dream of visiting. Over the next few weeks we will introduce you to the interesting people we met, the misadventures we had, and hopefully be able to convey the emotions experienced traveling overland through Africa.
The decision to drive ourselves over joining a group tour was the best one for us. The excitement and stress of having no idea what you are doing and figuring it out on the way made it a completely different trip. We have never had our hearts beat faster while being surrounded by 30 wild elephants and have never laughed harder as we tried to manage the ups and downs of camping for three weeks in the winter, in a country where everything is new to us.
After all the noise, pollution, and people in Asia, coming to Botswana and Namibia was a simple blessing. The vast blue skies took our breath away during the day, as did the endless bright stars at night. We drove nearly 8 hours almost every day while in the reserves or traveling between them and we'd pass no more than 10 cars the entire day, sometimes going hours without seeing another human being. We'd drive 50km down a sand road with no signs, just hoping that our destination would be at the end. It was an amazing experience, and if you have ever wanted to go to Africa, don't wait, just GO.
So many stories and more than 3,000 photos to come. Ask questions, engage with our stories and start planning your own trip to the bush!