The Taxi Driver
He will be the first person you meet when you get off the plane. You have most likely gotten off the red eye to Johannesburg at the early hour of 6 AM. You run to the bathroom to throw water on your face to wake up. Immigration is your first stop and instead of the officers wearing uniforms and badges you see the men and women behind the glass barrier in Adidas and Nike apparel. You smile as he looks at your 4 year old passport hoping that you still semi-resemble the person in the photo. He stamps you through and then you enter the arrival hall, searching for your name handwritten held by a stranger.
You see your name written in blue pen held up by a 6'7″ beast of a man. You think to yourself he is one of the jolliest people you have ever met, while remembering that it is 6:15 AM and wonder what they put in their coffee in South Africa. He greets you with a big smile and begins talking a mile a minute about travel, South Africa, camping and wild animals. He highlights the delicious foods in the region and his favorite cities in the world. The ride ends up being pretty short. Mostly because he will be talking about the traffic, and the men in the streets handing out fliers and more importantly reminding us about the great food in South Africa and insisting you eat Ostrich, Springbok and Kudu before flying home.
Upon arriving, you'll say your goodbyes and immediately began hoping to see him again on the way back. He made a great first impression.
The Map Guy
You are going to need to stop and ask directions. More than once. The roads between the parks in Botswana are questionable at best. When you stop to ask directions and ensure the roads are traversable you will meet this guy.
He starts talking fast. You try your best to follow.
"After the bridge, you go through a village
You'll see a concrete slab
3 or 4 minutes after the concrete slab, take a left
You'll see a tree has fallen in the road take the left route around it
Then there will be water across the road
Take a hard right, and keep going until the water is shallow enough to cross
Once you are back on the main road you'll see a concrete bridge
There will be tents on the left – drive 3 km more
Then just look for signs"
You admit that you lost him at "concrete slab" and ask him to write it down, so he draws you this map: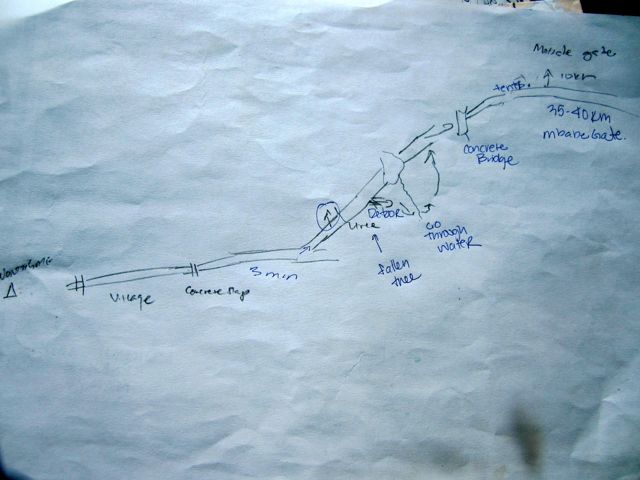 Now it all becomes clear.
The Dinosaur Fossil Camp Owner
You will race the sun to find the camp that you had Googled the day prior and once you arrive he'll be waiting for you. He will come out with his miniature pup to greet you and ask, "You're not German?" You reply with a hesitant "no" and wait to hear what he says next. He suggests that you will like the bush camp 3 km down the road. Confusion begins, is he sending you away because you aren't German? Where is he sending us?
He offers to show you some fossils and eventually you realize the bush camp is his, and he's sending you to the best campsite he has, not sending you away. You inquire about purchasing firewood and he instructs you to just pick up whatever you can find on the drive back. You try to put aside the fact that you've never cut down your own firewood and that most parks strictly forbid gathering your own firewood. You begin to search for any dead trees lying about, hacking at them to fit in the fire pit and getting pricked by the thorns that cover them.
It's your best fire yet.
The Car Guard
This man, or boy, will meet you at any supermarket, mall or parking spot. You park your brand new 4×4 with a big green ten on top that screams "tourist" and he will run over waiting for you to step out your door. He may be wearing a vest to make him look more official or he could be a random boy in street clothes there to assure you that he will keep your car safe. For the 10 minutes you are in the grocery store he will stand by your car, reminding you that the city is very, very dangerous and he will keep your car very, very safe.
If you are especially lucky he will want to engage with you. He asks your name and then proceeds to spell it, possibly practicing his English skills? Don't be nervous when he pulls out a sharp pocket knife and in an innocent yet terrifying way begins to trace the letters of your name on his arm. He begins… C…A…R…O… and then he looks at you for reassurance. You hope your smile covers up your apprehension as he continues with the glistening knife on his arm. L… he is stuck and asks what the next letter is. Your voice, shaky but still intact replies, I.N.E! He finishes your name, smiles and shakes your hand in a gentlemanly way while you head for the nearest exit, not wanting to watch him trace J..O..S..H into his other arm.
It's a weird day.