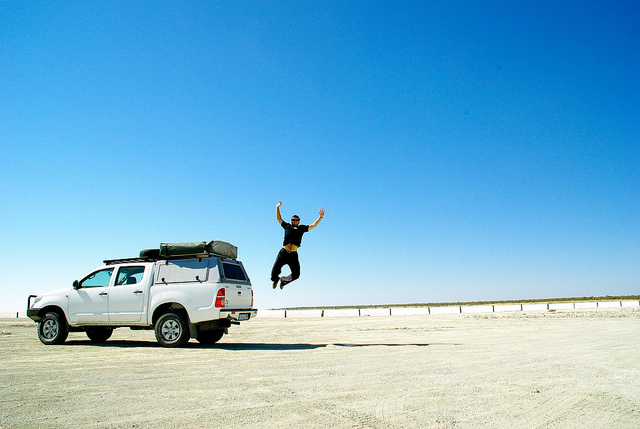 The first decision we made when planning our trip to Botswana and Namibia was whether to drive ourselves or join a group tour. On our own, we'd be driving through an unknown country and terrain while a group tour would provide a guide and help from others for cooking, cleaning and safety. We did a lot of research, consulted with past overlanders and compiled an extensive pro/con list. If you have ever wanted to go on safari, hopefully this will help you in deciding whether to take out tour or strike out on your own.
Trip Requirements:
We were open to both options but we wanted to keep our budget around $5,000 for the 3 – 4 week trip. If you've followed any of our budget updates, you'll know this is way more than we have spent anywhere else. A safari is going to be expensive and for our budget we could only afford the very low end group safaris or a self-drive. Private game reserves and chalets are way out of our price range for the length of time we wanted to spend in the parks. We knew we wanted to drive ourselves, especially after talking with Ryan and Laura at RoundWeGo, but we had to look at all the options to make the right decision.
Pros For Driving Yourself
It's an adventure, instead of a luxurious vacation.
You can still get a guided tour from a lodge or safari operator if you need a break.
You are in control of where you go, what you see, and how long you stay there.
You get to choose who you spend your time with.
You get to decide how to handle a charging wild animal.
Cons For Driving Yourself
It's an adventure, instead of a luxurious vacation
Like us, you may have no idea what you are doing
Like us, you may have no idea how to approach wild animals
You are responsible for border crossings, fuel, food, firewood, safety, and whether or not you see the animals you want to see.
Your guide gets to decide how to handle a charging wild animal.
In the end we chose the adventure. Despite not knowing what we were getting ourselves into.

Thoughts on Group Safaris
We came across plenty of group tours along the way. The only 3 week group tours that we could find within our budget were a massive truck that held 20+ people. You were assigned into groups and daily you would have chores, cleaning the dishes, shopping for the groceries, cooking etc. I don't mind doing my dishes and actually enjoy cooking for Josh and I, but I don't want to clean 20+ peoples dirty dishes and cook 20 fillets per night. Many reviews ranted about how the group would run out of food and the operators would have to ask for more money if you wanted more food, and servings would be rationed so everyone would have enough.
Not all tours are like this, but the ones we could (barely) afford were. I enjoy meeting people along the way and on our drive we met a variety of interesting people but at night when it's so quiet you can hear a lion roar 5 miles away and the only light in the area is from your camp fire and the stars above…I like to be alone. When you are done cooking and the adrenaline of the day has died down and it is just you and the wild, it's awe-inspiring. This is the time that I want to selfishly keep to myself.
So we had officially decided to drive ourselves. A choice that altered our entire trip for the better. Next on the agenda was to find a car hire company that would fit our personality and hopefully help with a bit of the route planning!
Next Week: How we found our favorite 4×4 car hire in South Africa.