All of the other guests in the hotel are of the same demographic (older, foreign men)
Only women work the restaurant and you are ignored once a "better customer" walks in
You don't see other females for blocks unless they are in questionable clothing or linked arms with a man
Bars titled "69" and "Pussy Cat" are a block away
You google "Red Light District" and your street is one block over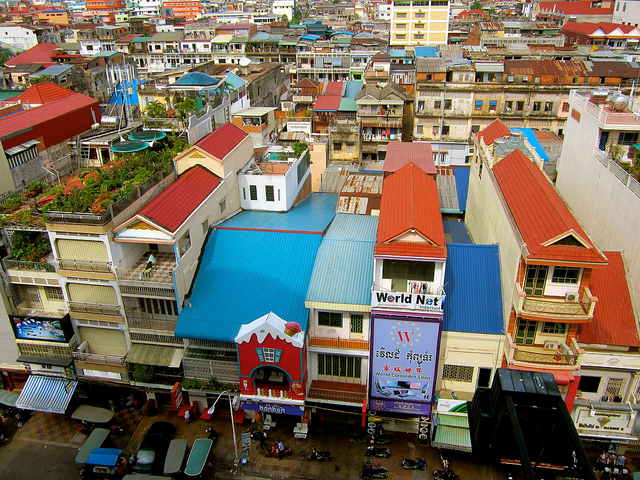 Inadequate research along with arriving very late in Phnom Penh left us at what we thought might be a decent guesthouse for our short stay in the city. The women welcomed us and showed us to our room, we were so tired after a 12 hour trip from 4,000 Islands that we failed to look around and recognize the signs around us.
The next morning we might have gotten a few odd looks, but mostly we were hungry and in search of breakfast. Looking around I quickly noticed that all of the other guests at the hotel were men. Men who were all about the same age (50 – 60) and the majority were white, English-speaking and way too happy to be in Phnom Penh. Our search for breakfast led us past bars named "Candy Bar" and "Night Flight" all which were closed at the early hours of 8 am.
While sitting eating a meal I overheard a man talking with our waitress:
Unattractive Man: I am coming for a drink on Friday.
Waitress: Have a seat and a drink now.
Unattractive Man: No, I am coming for a "drink" on Friday. (I am guessing there was a wink or some signal at this point)
Waitress: (Quickly catching on, and now changing her demeanor was touching his arm and giggling) Oh, I can't wait to see you Friday. I will save you a table.
Unattractive Man: Great, I am looking forward to it. (Touching her back and smiling.)
I threw up in my mouth a little. Yes, it was confirmed, my guesthouse was possibly not what it appeared. I quickly did what any (up until this point) Internet savvy flashpacker would do and googled "red light district in Phnom Penh". Another positive confirmation that my guesthouse was not even one block over from the streets listed online.
Instead of wasting our 48 hours in the city searching and moving to a new guesthouse we stuck out the two nights and ignored the morning breakfast flirting over eggs and toast, the overwhelming number of older men frequenting all of the restaurants in the area and the white dude/bored woman couples walking down the streets. In reality it is sad that this goes on and is so openly accepted by the tourism industry. I realize what I experienced wasn't even a small part of the life on these blocks. As much as I knew it went on in the city, I had never seen it so up close and personal as I did in Phnom Penh.