If you describe your lodge as "food, food and more food" there is a high chance that Josh and I will visit you! While we expected and anticipated deliciously designed food, we weren't ready for the level of service that we experienced at Laird's Lodge. To complete this post we had to go to consult the thesaurus for some new words to try to convey our fabulous two nights at Laird's Lodge Country Estate near Plettenberg Bay!
Upon arrival Joy greeted us outside and insisted we sit for some coffee and decadent chocolate cake while we began our holiday and who are we to argue. First we had to decide which of the 3 possible rooms we would like to sit in to have the coffee. All offered plush couches, and a burning fire with this cute kitten by your side.
Once we finally made it to our room we were amazed/dumbfounded/stunned by the perfectly decorated room. For a lodge which boasts of their cooking, they sure know how to design a room and offer hospitality! There are 15 rooms in the lodge and once a year the entire lodge is revamped, repainted and refreshed. Last year the colors were yellows and reds, this year the walls were grey with black and white accents. For returning guests this has to be exciting to see a fresh face with the same loyal team.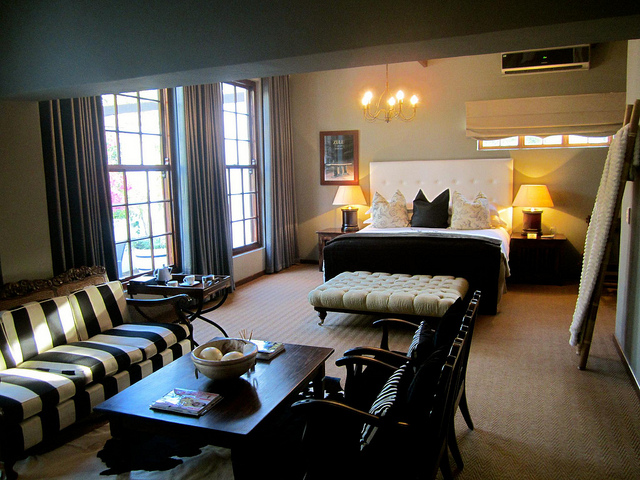 Our first priority was to find out when dinner was. We kept hearing about their chef and we were hungry from our day of traveling. The menu changes daily and offers 4 courses, which you can choose to have 2, 3 or all the options. If you are a vegetarian they have a full menu for you also! I chose to sample the vegetarian stack of eggplant and avocado along with a leek and potato soup while Josh's eyes lit up when he saw the beef fillet with mushrooms and malva pudding for dessert. Here are some highlights from our dinner, I will let the photos speak for themselves.
You might think that all we did was eat…and you would pretty much be correct. Breakfast in the morning was delicious. The hot breakfast changes daily in addition to a dazzling array of options on the cold buffet. The first day was a poached egg with hollandaise sauce on crispy toast, bacon and spinach. It's safe to say that it's the most delicious breakfast I have ever eaten.
After breakfast the first morning we went outside to begin our trip to Tsitsikamma National Park to hike for the day. We were pleasantly surprised to find our car waiting for us clean! This is the kind of service I have never experienced anywhere else. The team at Laird's Lodge washed our car while we were eating breakfast each morning. We were stunned. (Especially since we'd been driving on some dirt roads in the rainy season!)
While reading through their guestbook you can tell the three sisters behind Laird's Lodge know what they are doing. Most of the guests have returned for multiple years and all the reviews are raving. They keep the lodge family owned, they know that the extra touch matters, they love getting to know their visitors personally and are proud to have kept their staff over the years, the chef has been there for more than 10!
Our hike in Tsitsikamma National Park was much-needed after all the eating we had been doing and equally beautiful! There are so many hiking trails to choose from you could spend multiple days here exploring the park and whale watching in the winter.
After our day of driving through The Crags and hiking the park we returned to do what we do best…eat! Dinner was the catch of the day with veggies and whipped potatoes and the most scrumptious french onion soup and Julienne salad with ostrich carpaccio to start. Once again I will let the photos do the talking!
We knew our time here would eventually end, but we weren't leaving without one last breakfast! (Yes, MORE food!) Our stomachs were stuffed and our foodie fix was satisfied. We left feeling as if everyone who worked at Laird's Lodge made the extra effort to help us, make us more comfortable and just reach out to let us know they were there. It was refreshing to see everyone take ownership of the lodge like it was their own, and even more impressive that this is the way every guest is treated.
If you like food and amazing service, don't look any further than Laird's Lodge in the Knysna/Plettenburg Bay area. We would stay again in a heartbeat!
Disclosure: We were sponsored guests of Laird's Lodge Country Estate. As always, our opinions are our own.