Wilderness, South Africa–which ranks as one of my favorite city names–is known for its endless beaches and water sports. We weren't in search of any crazy water sports on this trip, only a few days of peace and quiet to experience the natural beauty of the garden route while catching up on some R&R.
When we find beaches like this: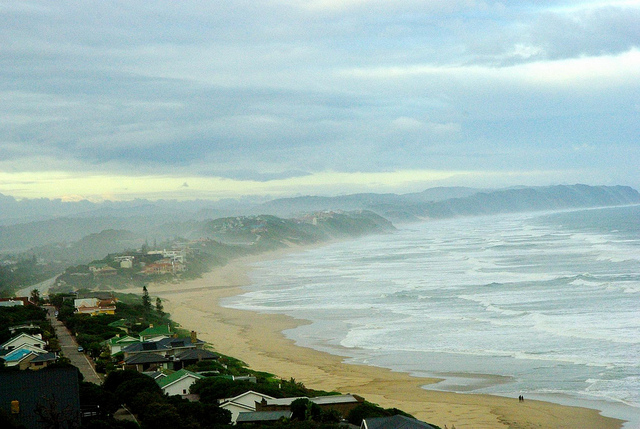 and you walk out of your room at Moontide Guesthouse to this:
You don't have to go anywhere else to find tranquility.
The details of the lodge are most intriguing. Thatched roofs and heated blankets. Homemade soaps and handpicked wall hangings. Each room is uniquely designed.
We spent the two days in Wilderness doing what we came here to do. Sitting and enjoying the ocean. We listened to the waves crashing against the sand, while two dogs played in the water. If it sounds like it was out of some cheesy romance novel, it probably could have been. Since it was low season we had the beach to ourselves with an occasional dog or child running by.
We didn't get to jump in the pool or take out the kayak since it was winter, but we got to climb in the heated sheets and fully appreciate the "preheat" setting.
Breakfast is ordered hot along with a buffet of cold options. Josh loved the Moontide special which was a stack of toast, bacon and fried egg–the perfect combination.
Wilderness is a small town, there is one main road with restaurants, two of which–Blue Olive and The Girls–we tried and loved. Don't arrive expecting a big city or fast pace, but come and fall in love with the nature and the people.
Moontide guesthouse has a unique and beautiful character with all the amenities you'd expect at a surprisingly affordable price. The manager, Tim, is second to none and will ensure your stay is wonderful. Tell him Josh and Caroline sent you!
Disclosure: We were sponsored guests of Moontide Guesthouse. As always, our opinions are our own.