When you drive yourself through Africa the rules are a bit gray. There is no manual outlining the details that could possibly get you into a lot of dangerous situations.. You are told to "Drive slow" and "Don't get too close to the animals." The question is how slow and how close!
We got charged by a grumpy old territorial bull elephant.
We left early in the morning with no plan other than to drive north and see what we could find. Our route took us over a bridge submerged in water and a 3 ft deep sandy path. As we drove we continually had to swerve from left to right to avoid the trees on the sides of our road that threatened us with their lengthy thorns.
We turned a corner and came across a solo bull elephant eating the leaves in a tree about 60 meters in front of us. His backside hung out into the road blocking us from driving around him. At the Khama Rhino Sanctuary, signs suggested keeping 50 meters distance between yourself and dangerous animals, so we assumed we would be fine.
We sat there, excited to see such a large elephant in a wide open space.
We sat there, wondering when this marvelous creature would be tired of this one tree and move on to the forest behind us.
We still sat there, frustrated that 40 minutes had passed and we had only seen one animal on our game drive, the grumpy guy.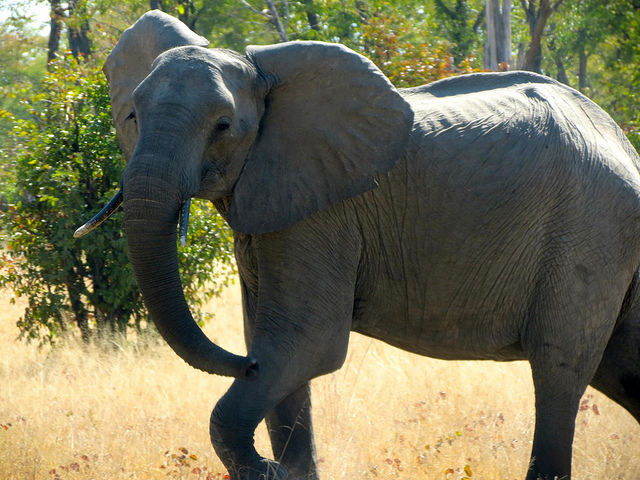 In an act of defiance and blurring the rules of a self-drive safari we inched forward. We made it maybe 10 meters when the elephant—who seconds ago was cute and harmless—turned, flapped his ears and trunk and let out a warning trumpet. Before we could react, he took off towards us, still screaming.
You could say we panicked. While before we were trying to move as little as possible to not agitate him, Josh—who was 3 days into his experience of driving a manual transmission—threw the trunk into reverse and stepped on the gas trying to get the hell out there, while still staying on the sandy road.
Feeling helpless in the passenger seat I became a play-by-play announcer. "He is still waiving his trunk in the air! He seems to be picking up speed! He looks angry! He just passed the 50 yard line and his ears continue to flap with fury!" You could guess that none of these comments were helpful to Josh as he contined to focus on getting the car as far away from the charging elephant as possible showing no concern for the trees on the left or the thorns on the right that were tickling our car.
After 200 meters of reverse and my heart trying to pound its way out of my chest, the elephant veered off the road to the right as if we had disappeared. He got bored, or tired of running, or decided he'd had enough fun with us. We're not sure why but overly thankful because when we tried to turn around we got stuck in the sand and stalled. Like us, our car could no longer handle the stress of the charge and gave up. We sat there in the sand, no longer frightened but still high off of the adrenaline coursing through our veins.
This was just the beginning of our elephant encounters on this trip. We could write a book on what not to do when you see elephants on a safari, but from this point forward we were constantly on guard for the big gray monsters. We added a few meters to the concept of "keep your distance" in hopes of avoiding future run-ins.
What's the scariest thing that's happened to you while traveling?