I have always been intrigued by Great White Sharks. These massive fish can get as large as 6.1m and weigh 1 ton. I am always planted on my couch during "Shark Week" and I have always wanted to see them up close!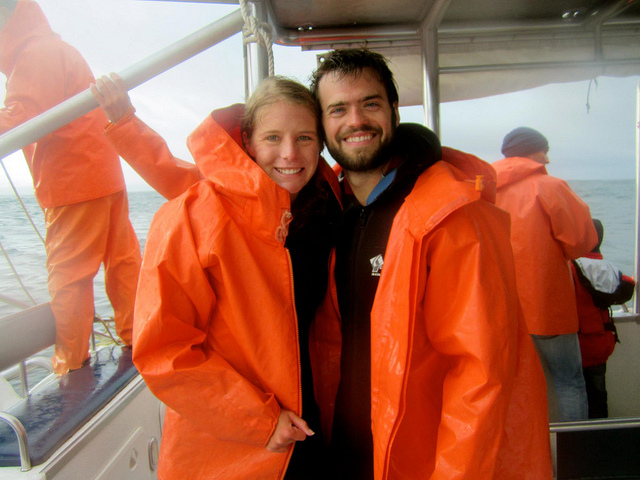 On our drive down the garden route we teamed up with Great White Shark Tours in Kleinsbaai, South Africa and climbed into a cage in the freezing winter water to experience sharks firsthand.
Brian McFarlane and his crew are fantastic. The day started with a buffet breakfast and coffee before we boarded the Apex Predator, Brian's shark boat. We got the necessary safety briefing telling us to keep our limbs inside the cage and don't touch the sharks with the added knowledge that sharks can turn 180 degrees in less than a second. Brian got the group hyped up with some of his own stories and experiences which I would have loved to hear more about. He has spent 16 years working with Great Whites after fishing for them while it was legal (which he regrets) and now works towards preserving these huge beasts.
We all dressed ourselves in heavy rainproof jackets and pants as we ventured out into the wintery South African sea. A bit of wind and swells were not going to hold us back from jumping in the water. In all honestly I think I was more nervous about the water temperature than anything going wrong with the Great Whites!
Of course, when given the option Josh and I jumped in with the first cage diving group. We put our wet suits on (mostly because the crew thankfully yanked them on us) and immediately the first shark had been spotted, so we were in! Without thinking about it we jumped in the cage and stuck our heads under water and directly in front of us was a 4 meter long Great White Shark. I was in complete awe watching this possibly 1000+ lb shark swim with such grace and ease in search of its afternoon meal.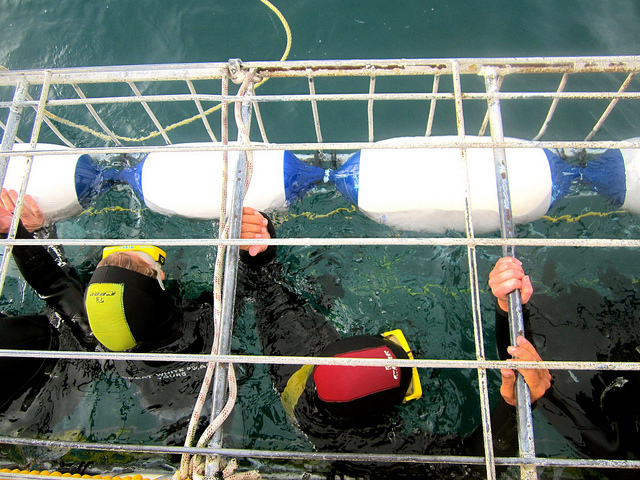 Your mind starts wandering, can he see me, am I able to move without drawing his attention, how strong are these bars? While you are in the cage, the crew above is attracting the shark in with a dead tuna and a cut out seal decoy that floats on the surface. They are basically taunting him with meat and then pulling it away, which I think is only making this HUGE shark in front of me angry…I might start looking like an easy lunch.
Our heads would pop above the surface as we waited for the group on the boat to spot another shark taking the bait. We would hear "SHARK, DOWN LEFT!" and in that moment we would dive under the water and look in the direction and every time there would be one of these powerful fish swimming towards us. The water was cold. The water was really cold. As our hands were holding on to the cage they would shake, our toes were numb but we were addicted to diving under to admire these sharks only a few meters from us.
When our turn in the cage was over we put on drier, warmer clothes and joined the crew in search of more sharks. They had plenty of snacks, sandwiches and drinks on the boat to keep you hydrated and fed. The sharks might, but you definitely won't go hungry that day!
Although you will see the sharks if you stay on the boat, the experience of getting under the water with them and seeing them up close is an adventure I wouldn't miss out on!
Traveling Tip: I wish I had brought an underwater camera with me when I dove. If I had planned ahead I could show you an up-close photo of Great White Shark Jaws coming directly at me. It was that close and that cool!
Disclosure: We received a discount from Great White Shark Tours. As always our opinions are our own.