Healthy travel is almost an oxymoron. Healthy travel on a budget is near impossible. In order to help you travel as nutritious as possible, I have put together 30 suggestions to cut out extra calories, fat, and sodium in your diet. Although you might think most of them to be simple and basic – I bet you aren't practicing 1/2 of them!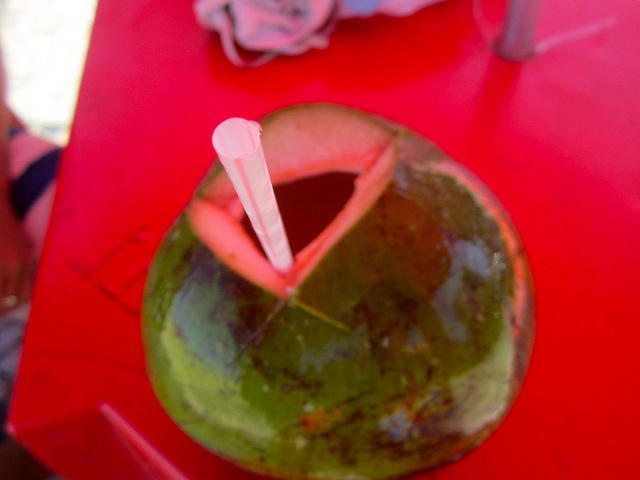 Don't skip breakfast, turn on your metabolism and get some protein early on in your day.
Avoid eating while standing. I am always eating on the go when I travel, but even at small food stands I try to find a park bench and sit while I eat.
Cheese isn't bad for you, but the fat is – choose lower-fat options and keep your portions small.
Switch from whole milk to skim. You get the nutrients without the fat.
Trim the fat from meats before you cook, it's amazing how much it helps reduce your fat intake. If you are eating out, order lower fat meats.
Eliminate fried foods…You don't need them, there is nothing good about them.
Cream sauces like alfredo and hollandaise are loaded with fat – choose tomato based sauces instead.
Read the labels and check the sugar and salt content! If you can't read the labels, order your food as close to its natural state as possible.
Avoid shopping when you are hungry and always go with a list.
Vary the foods you eat so you don't get bored. Always aim to eat more fruit and vegetables with your meals.
Eat more fish! But stay away from breading or batters on the fish.
Exchange water for soft drinks…Yes even diet drinks!
Potatoes aren't your enemy. A baked potato has no fat and 150 calories. Just don't load up on the toppings or eat them in their fried form!
Stay away from pastries, they are loaded with sugar and won't leave you full.
Limit your meat intake and pick white meats when possible. Get creative with ways to get your protein through non-meat sources. Ex. Tofu, legumes, and greek yogurt.
Don't give up dessert, just plan ahead. 1 square of dark chocolate, fat-free yogurt with fresh fruit or strawberries and bananas.
Reduce portions. Eat all of your meals on a salad plate and don't go back for seconds! Avoid the temptation to super size all of your meals.
Keep a food diary, not forever, but until you get a handle on how many calories you are burning and how many you are putting in.
Eat more yogurt! It is a protein as well as a carbohydrate, giving you the energy you need to burn the protein. Also, when you travel, it will help with unwanted stomach problems.
Add more tuna to your diet.
Avoid any "salad" which is drenched in mayonnaise such as chicken, tuna or egg salad. Or try making your own and using greek yogurt in your recipe instead of the mayo.
Eat oatmeal – Lots of it!
Try to avoid buffets. If you do go to one, get a table as far away from the buffet as possible and only go through the line once.
Stick to broth soups – you will eat less calories and fat.
Get colorful with your vegetables, try new cooking styles with new veggies every week.
When dining out, don't be afraid to ask for things on the side.
Order off the appetizer menu for a smaller portion, split a meal with your friend or eat only half of your plate and bring the rest home for leftovers.
Have your go-to fast food restaurants ready so when you have to eat on the go you know what the healthiest option is at each place. Just because you're eating fast doesn't mean you have to eat terribly.
Spicy foods can help curb your appetite and have been known to speed up your metabolism.
Don't restrict yourself too much, you have to enjoy what you are eating or you will be miserable!
Start by applying 1 or 2 of the strategies above until they become habit. Eventually many of these will be part of your lifestyle and you will travel healthier when you are on the road!