"It's in the Lonely Planet."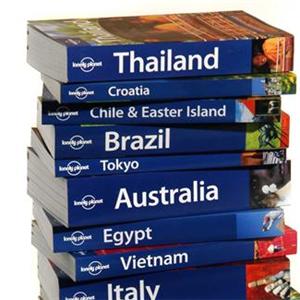 That shining achievement, glittering recommendation, unquestionable status. It's the book that tells you what to do and it seems like everyone has one. We did, back in college when we studied abroad in the Netherlands. We had a Netherlands guide and Europe on a Shoestring. I wouldn't let Caroline tear any of the pages out, so they took up a lot of room in our pack, and I would constantly forget that we had it and should use it to look up information.
We've traveled with a friend who carried the Southeast Asia edition, and together we used it to pick a guesthouse in 4,000 islands, Laos. The one we picked was pretty nice compared to our other options, and about the only place that had aircon. For this luxury we dealt with a daytime "worker" who acted like we tore him away from brain surgery—he was always watching TV—for the privilege of paying him for a cup of coffee or a bowl of noodle soup. The guesthouse was listed as 50,000 kip in the guide, but we paid 160,000 kip.
Once a restaurant, guesthouse or tour company gets into the Lonely Planet you can usually expect this:
Anything listed under 'Budget', is likely no longer a cheap place once you arrive.
Customer service decreases, once they know they are in the guide, they can just sit back and watch the weary backpackers roll in.
Getting in the Lonely Planet is a big rubber stamp that almost always guarantees a company to be "middle of the road." You aren't going to find anything spectacular just a lot of safe, mediocre choices.
So, how could we possibly get our information without Lonely Planet?

Seriously, did you guys know about this? There's a series of tubes that connects everyone's computers and we can all talk to each other and share information! Wow!
We decided early on in our planning that we would try to go without buying a single guidebook and see how we could do just using free information off the Internet.
In the past there wasn't as many informative travel sites and access abroad was expensive or difficult to find. But now that everyone and their sister has a travel blog, high speed Internet is nearly ubiquitous and there's a _ chance that you travel with some type of laptop or smartphone. We've gone all-in with this method, and it hasn't failed us yet.
Lonely Planet Pros
It's easy. All the information is organized and laid out for you. You just crack open the book, pick a place and go. They're already expecting you.
There's almost no risk. You might pay a bit more, but you'll either get a good or mediocre place
You can carry the book with you and don't need power (maybe some light) or Internet access to read it
Lonely Planet Cons
Information is out-of-date as soon as the book is printed
Book takes up place in your bag
Many places change once listed in the guide
Buying multiple guides can get expensive.
Internet Pros
It's free!
Higher chance of being up-to-date (still a lot of old broken websites out there)
If you find out-of-date information you can change, comment on it, or put up the correct information on your own site
Internet Cons
You need Internet access
Can be difficult to find information if you don't know where to look
Next week I'll write about the top 5 websites for travel information that you might not be using.
What do you use for travel advice? Let us know in the comments!